AET Laboratory Services – Materials Testing, Analysis, and Evaluation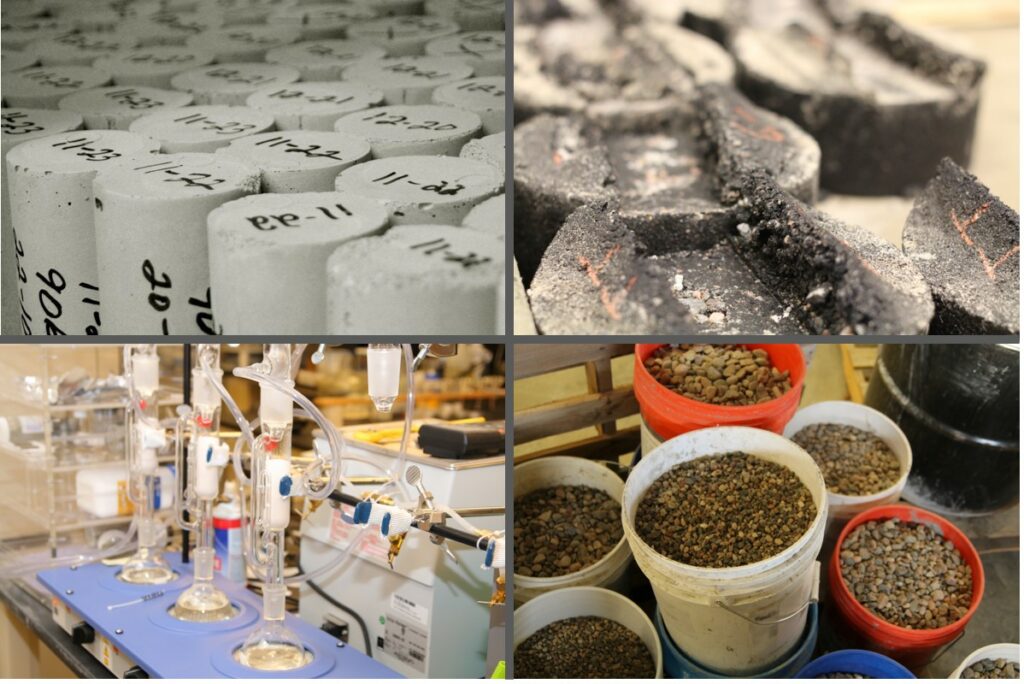 Our testing, analysis, and evaluation of construction and building materials helps contractors select the right materials for each application. The results, and our recommendations, help clients prevent structural defects and avoid poorly-performing materials. When materials do fail, it's testing, analysis, and evaluation that enable us to pinpoint the causes.
AET lab staff test, analyze, and evaluate soils and aggregates, asphalt, concrete, mortar and other cementitious materials, as well as fabricated and forged metal parts and equipment used in the construction of roadways, buildings, and other structures. We also conduct product testing on a wide range of sealants, coatings, admixtures, and building materials.
We own and operate 20 accredited construction materials testing labs in the Upper Midwest and Wyoming, including 27,000 square feet of lab space in our Saint Paul, Minnesota headquarters.
Our local labs are conveniently located to support the testing needs of regional construction projects. For large-scale and long-term projects, we also offer the option of mobile or on-site labs to meet client needs.
Clients trust AET as their accredited independent testing laboratory (ITL)
AET labs perform the critical physical and chemical testing needed to be sure that materials used on construction sites will perform as expected, meet specifications, and comply with building codes and regulations. We are also equipped for forensic and failure analysis and provide the specialty testing and analysis needed for research studies.
We maintain laboratory certification through multiple third-party, industry-recognized accrediting agencies. For example, our offices in Saint Paul, Rochester, Duluth, Wausau, Sheridan, Fargo, and Sioux Falls are accredited by the AASHTO Accreditation Program (AAP) in geotechnical and construction materials testing.
In fact, AET has the largest AASHTO accreditation in the United States — including Quality Management Systems, Aggregate, Concrete, Cement, Masonry, Pozzolans, and Slag . Our offices in Saint Paul, Rochester, Duluth, Fargo and Rapid City also carry a US Army Corps of Engineers (USACE) Validation for materials testing on aggregates, concrete, cement, and masonry.
Our work is conducted according to ASTM, AASHTO, FHWA, EPA, APHA, and other standard methods for analytical services and testing. All work is also performed in accordance with our internal Quality Management System (QMS). Our lab staff and professionals maintain required certifications and licenses and are also active in technical organizations such as ASTM, ACI, TRB, PCI, AASHTO, and participate in the development, adaptation, and implementation of many standard tests and specifications.
Our labs have a solid track record of independent construction materials evaluation.
AET materials testing professionals are knowledgeable, responsive, and friendly
A wide range of regulations, standards, and service life requirements guide your selection of materials on any construction project. Our team understands how the materials you select, and their characteristics, will affect compliance, quality, costs, and even the environmental impact of your construction project. Our staff can steer you to the appropriate material testing and analysis you need to support each project.
Over the last 50 years we have established a reputation for providing high-quality data and recommendations, staying responsive to client needs, and being just plain "easy to work with". Our in-house laboratories provide services to support thousands of construction projects each year– throughout the US and around the world.
AET delivers critical data and recommendations so you can make informed decisions
Learn more about each of our laboratory services (below) or contact us to discuss your testing needs and next steps.
Concrete Materials Laboratories
The AET Concrete Materials Laboratories, located in our St Paul headquarters in Minnesota, offer comprehensive materials laboratory testing for every stage of your project. We can conduct testing for mix design verification, cementitious materials, durability of hardened concrete samples, and many other specialized tests. Additionally, we develop design mixes for concrete, mortar and grout to meet project specifications.
Our lab teams are familiar with specifications for state transportation agencies, the Federal Aviation Administration, and the U.S. Army Corps of Engineers. We have worked for and with state DOTs on roadway projects for five decades. We also provide all-inclusive concrete testing services for heavy civil projects across the nation and defense projects located around the world.
Asphalt Laboratory
The AET Asphalt Laboratory is an accredited bituminous laboratory, located in Saint Paul, Minnesota. We provide asphalt materials testing, quality assurance testing, and asphalt pavement mix design for roadways and airport runways. Our lab can meet your everyday testing needs but we can also support special research studies on bituminous materials, using equipment such as the Hamburg Wheel Tracker, dynamic modular testing, DCT, IFIT, and inner-layer shear strength testing.
Aggregate Testing Laboratory
Our Aggregate Testing Laboratories offer aggregate testing services at every phase of your project. From on-site quality control monitoring at the production facility where you source the aggregate to physical characterization in our specialized laboratories to ensure aggregate suitability for its intended use. We verify that aggregate physical properties will meet the performance requirements for project specifications.
AET has experience in testing aggregates throughout the world and has been serving the aggregate industry for over 30 years. We have a solid understanding of aggregate products and provide quality assurance testing for numerous mining operations across the US. We also support aggregate producers in establishing New-Source materials for MnDOT acceptance.
Geotechnical Testing Laboratories
For over 50 years we have maintained in-house geotechnical laboratories for describing and characterizing rock, soil, soil-bentonite mixes, and sediments; performing physical tests; and evaluating mechanical properties. Our services assist in site characterization for development and re-development of commercial and industrial sites, and also during the construction phase as part of materials testing programs.
Petrography Group
Our internationally-recognized Petrography Group uses microscopes and physical tests to examine samples of construction materials, as well as pieces or cores taken from existing concrete, or masonry structures. They evaluate aggregates for use in concrete and also verify that concrete was mixed as designed, using the right materials. Petrographic analysis of existing structures provides critical information about the current condition of these structures and their projected service lives, as well as identifying causes of defects or deterioration.
Chemistry Laboratory
The AET Chemistry Laboratory provides chemical services for the construction industry. We are equipped for traditional and instrumental analyses in our state-of-the-art laboratory located in Saint Paul, Minnesota. Often working in collaboration with our Petrography group, our lab provides services ranging from routine standardized tests for acceptance, conformance, optimization, and product support testing to failure analyses and forensic investigations. We focus our combined 80 years of experience in independent testing, formulation, manufacturing and production to offer a one- stop solution that serves the needs of contractors, engineers, lawyers, manufacturers, and other laboratories.
Environmental Chemistry Laboratory
AET in Sioux Falls, South Dakota has a well-equipped and professionally staffed in-house analytical chemical laboratory that provides a full range of environmental analytical services to private industry, federal, state, and local governments.  This includes analyses in waste, air, water, soil, sludge, and other types of samples for metals, cyanides, RCRA waste characteristics, TCLP Toxicity and other Inorganic compounds.
Nondestructive Testing (NDT) Team
AET provides a full range of NDT and inspection methods and techniques to examine materials for defects. We provide ultrasonic, radiographic, magnetic particle, penetrant, and visual testing services. Our NDT team regularly inspects the integrity of welds, bolts, castings, plates, forgings, concrete, and masonry for national and international clients in a wide variety of industries.
Clients determine the best location for providing our services. We can bring portable equipment to your site or set up a lab at your fabrication facility. Smaller items can be shipped to our NDT Laboratory in Saint Paul, Minnesota for testing. Wherever we are located, our technicians are highly qualified, work efficiently, and deliver detailed reports.
AET also provides Construction Services, including material testing, observation and inspections, to support vertical, horizontal, and linear construction projects.
Contact a Laboratory Professional
AET Senior Petrographer, Chris Braaten, PG, CPG, presents an overview of potential impacts of various aggregate components on concrete…
We look forward to serving the Bemidji area from our new location
Wireless temperature sensors, embedded in newly poured concrete, were key to placing 226,000 yd3 of concrete in 270 days
Let's discuss how we can support your project