Petrographic Analysis, Evaluation, Consulting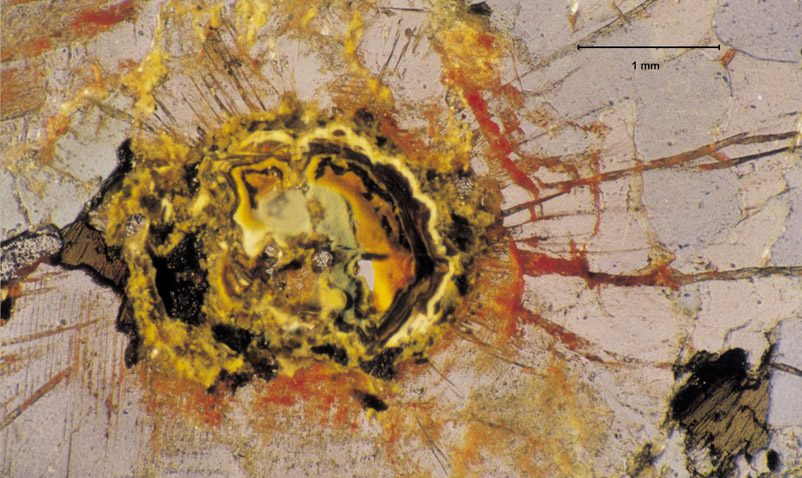 Our Petrographers use microscopes to better understand the construction materials used in concrete mixes, mortar, and similar products. The information helps prevent problems from happening down the road or helps figure out the cause of existing problems.
The internationally-recognized AET Petrography Group specializes in evaluating samples of rock, aggregate, sand, concrete, mortar, and other cement-based construction materials to provide quality assurance and to troubleshoot issues.
Our petrographic lab space is equipped with sophisticated stereo, petrographic, and scanning electron microscopes that let us examine the optical properties of materials and evaluate their microstructural characteristics. Sample analysis can also include a host of techniques, including use of Fourier Transform Infrared Spectrometry (FTIR), X-ray Fluorescence (XRF), and X-ray diffraction (XRD) to identify the components of various construction materials and admixtures.
We provide a detailed report, along with high-quality images and practical recommendations for solving an issue or construction challenge.
Concrete petrographic analysis and evaluation help clients make informed decisions
Petrographic evaluation lets us verify that concrete was mixed as designed; used the correct materials; and was placed, finished, and cured as specified. Using forensic techniques and observations we can also characterize concrete deterioration and defects, determine the degree of damage present, and evaluate whether the deterioration will continue.
Our petrography reports include an estimate of remaining useful life of the material and, where feasible, recommend options for extending that lifespan or repairing the material. This helps our clients make informed repair or replace decisions.
Petrography, by itself, can answer a lot of questions but sometimes we need other types of testing to fully address an issue. When needed, we collaborate with other AET labs, such as our certified independent asphalt, concrete materials and chemistry laboratories, to provide additional testing that will help identify constituents or validate pavement materials and a variety of admixture and chemical products.
AET provides independent petrographic evaluations
The AET Petrographic Group is not affiliated with any material or product supplier. We provide independent testing and analysis and unbiased evaluations of your materials. We are AASHTO accredited and U.S. Army Corps of Engineers validated in almost all test procedures.
We are proud to have one of the largest and most qualified petrographic analysis teams in the world. Our internationally renowned team of Petrographers are Professional Geologists with extensive experience. Our rock and sand testing services have contributed to successful projects for vertical construction, roadway, rail and transit systems, agricultural and industrial projects, and product development.
We understand the importance of anticipating the goals and lifespan of materials, managing your risk and adhering to project deadlines. The AET Petrography Group is the preferred provider for a wide variety of clients, including building owners, general contractors, project managers, and engineers, as well as material suppliers and manufacturers.
Petrographic sample collection for petrographic analysis
Every forensic project is unique, but each one begins with the collection of samples for us to analyze, along with relevant photos of damaged or defective areas.
Frequently, samples (broken pieces or cores) are collected by our clients and shipped to AET for evaluation. Our in-house Forensic Engineering team is also available for travel to your site to collect samples. Upon returning to the lab, samples are prepared, mounted and polished for evaluation.
AET has conducted forensic analysis to understand defects and failures with the following materials.
Concrete
Block and Brick
Rock
Aggregate
Cement
Pozzolans
Grout
Mortar (modern and historic)
Tile and terrazzo
Dimension stone and cladding
Interior plaster and stucco
Flooring/coating systems
Lightweight concrete
Swimming pool plasters and finishes
Gunite and shotcrete
Cement-stabilized soils
Lime-stabilized base materials
Depending on the situation, our analysis of your samples can include a host of optical, chemical and crystallographic techniques. Petrographic analysis for concrete materials, for example, begins with accepting an aggregate for use in concrete (ASTM C295). Once the concrete is hardened, petrographic examination (ASTM C856 and ASTM C457) verifies the product was mixed as designed and that the right materials were used.
The AET Petrography Group evaluates building material issues
There is a wide range of problems that your concrete and masonry structures may experience, including but not limited to:
Alkali-carbonate reaction (ACR)
Alkali-silica reaction (ASR)
Attack by sulfates and other chemicals, including salts
Cracking
Delamination
Fire damage
Freeze-thaw damage
Water damage
Discoloration and staining
Low strength
Popouts
Scaling or spalling
New and historic mortar evaluations
Replication of historic mortars, stuccos and concretes
Comparing hardened concrete to known mix designs
Specific Testing Capabilities of our Petrography Group
AET routinely provides these tests. We conduct many additional tests not on this list — contact our representative above to discuss your project needs.
ASTM C295 Petrographic Examination of Aggregates for Concrete
ASTM C457 Microscopical Determination of Parameters of the Air-Void System in Hardened Concrete
ASTM C856 or AASHTO T 277 Petrographic Examination of Hardened Concrete
ASTM C1202 Rapid Chloride Ion Permeability
ASTM C1324 Examination and Analysis of Hardened Masonry Mortar
ASTM C1721 Petrographic Examination of Dimension Stone
ASTM C1723 Scanning Electron Microscopy (SEM) with Energy Dispersive X-Ray Analysis (EDX)
ASTM C1760 Bulk Electrical Conductivity of Hardened Concrete
ASTM D4992 Evaluation of Rock to be Used for Erosion Control
ASTM D5312 Evaluation of Durability of Rock for Erosion Control Under Freezing and Thawing Conditions
ASTM D5313 Evaluation of Durability of Rock for Erosion Control Under Wetting and Drying Conditions
ASTM D6473 Absorption and specific gravity of Rock for Erosion Control
CRD-C 144 Standard Test Method for Resistance of Rock to Freezing and Thawing Conditions
CRD-C 169 Standard Test Method for Resistance of Rock to Wetting and Drying Conditions
Contact a Laboratory Professional
AET Senior Petrographer, Chris Braaten, PG, CPG, presents an overview of potential impacts of various aggregate components on concrete…
Let's discuss how we can support your project