Asphalt Pavement Testing, Reporting, Mix Design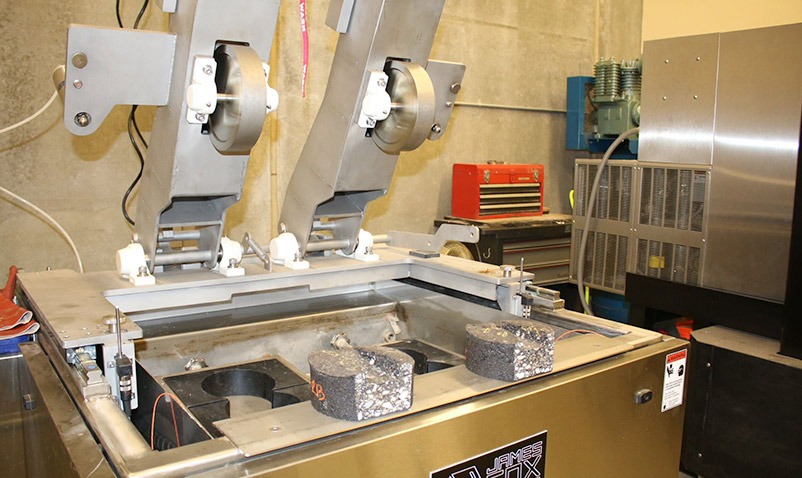 From highways to parking lots, we expect asphalt pavement to provide a solid, long-lasting driving surface. By testing the materials used and the final asphalt mixture – before it goes on the road – contractors can be sure the pavement will meet requirements.
The AET Asphalt Laboratory is an accredited bituminous laboratory, located in Saint Paul, Minnesota. We provide asphalt materials testing, quality assurance testing, and asphalt pavement mix design for the construction of roadways, parking lots, railways, and runways – across the nation and around the world.
AET uses the latest asphalt testing technologies
Our lab can meet your everyday testing needs but we also have the capability to support special research studies on bituminous materials. Some of our specialty equipment includes the Hamburg Wheel Tracker, dynamic modulus testing, DCT, IFIT, inner-layer shear strength testing.
Established 1990, we maintain the best-equipped bituminous testing laboratory in the Upper Midwest.
Our lab team is highly experienced and dedicated to this core specialty. Their combined knowledge base and use of the latest asphalt testing technologies means you receive accurate, thorough reports and meaningful consultation.
We have "big-picture" understanding of asphalt pavement testing
The AET Asphalt Lab team members have decades of experience meeting client needs and asphalt specifications. We have the expertise and background to help our customers understand their specifications and testing needs and provide the most cost-effective approach for complying with testing standards and requirements.
Each year, our lab team tests thousands of pavement samples from roadways and runways. We understand the urgency of receiving testing results in a timely manner, but we do not cut corners to save time. We balance our strong focus on quality and compliance with the practical needs of the client to maintain their timelines and budgets.
AET asphalt mix design expertise — recognized around the world
Our asphalt mix design team works closely with AET specialists in chemistry, cement/concrete testing, and nondestructive testing and evaluation. Where needed, we also consult with AET pavement, geotechnical, construction materials testing, petrography and environmental professionals. Drawing from this cross-disciplinary team, we can provide a comprehensive, thoughtful approach for your mix design project.
We work on projects of all sizes for clients around the world. Please us to discuss your testing needs or for responsive field observation and troubleshooting on existing projects.
Asphalt testing and mix design services
Basic Asphalt Testing
Extraction
Gradation of extracted aggregate
Specific gravity
Density
Stability
Flow
Specialty Asphalt Testing
In addition to basic tests for extractions, gradations, and Gyratory and Marshall mix designs, AET also has the knowledge and tools to conduct more sophisticated and accurate testing.
Disc-shaped Compact Tension testing (DCT)
• Hamburg Wheel Rut testing
• Low Temperature Cracking (AASHTO T322/ASTM 6931)
• Resilient Modulus testing/Dynamic Modulus testing (SPT)
• Semi-Circular Bending Test (SCB)
• Tensile Strength Ratio testing (TSR)
Bituminous Extraction (Ignition and Chemical)
Volumetrics
Pavement Field Testing
Falling Weight Deflectometer testing (FWD)
• Ground Penetrating Radar
Dynamic Cone Penetrometer
Light-Weight Deflectometer testing (LWD)
Condition and Smoothness Testing
Base and Subgrade Materials testing
R-Value and CBR testing
Resilient Modulus Testing (AASHTO T307 modified)
Mix Designs
AET also provides customized balanced mix designs to meet project needs.
Foamed Asphalt Mix Design
• Hot-mix asphalt (HMA) Mix Design
Superior Performing Asphalt Pavements (SuperPave) Mix Design
Stabilized Full Depth Reclamation Mix Design
Cold-in-Place Recycling Mix Design
Soil-Cement Stabilization Design
Contact a Laboratory Professional
AET Senior Petrographer, Chris Braaten, PG, CPG, presents an overview of potential impacts of various aggregate components on concrete…
Let's discuss how we can support your project