Aggregate Testing Laboratory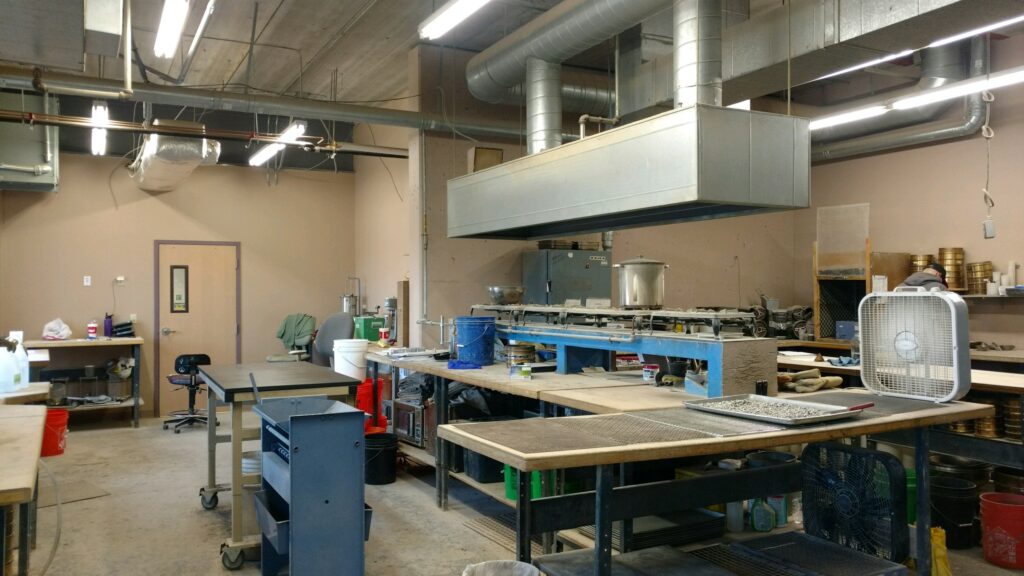 Aggregate — the  coarse and fine products used in construction materials – have  to meet strict quality standards.
Our testing laboratories in Saint Paul, Minnesota and in local offices across our region, can determine  whether or not an aggregate will perform to the specified requirements to meet the expected performance demands of your project.
AET provides independent third-party aggregate testing services
Our fully-equipped aggregate testing laboratories provide testing of aggregates used in concrete, masonry, bituminous, base aggregate and subbase materials.  
We also work in collaboration with AET Petrography Group and forensic teams to characterize aggregate properties that may have contributed to construction defects, quality issues, and failure investigations.
Our laboratory professionals have a solid understanding of aggregate products and we provide quality assurance testing for numerous mining operations across the US.
We also support aggregate producers in establishing New-Source materials for MnDOT acceptance.
Our clients depend on our test results for aggregate selection and quality control
AET has experience in testing aggregates throughout the world and has been serving the aggregate industry for over 30 years. We understand that time is money, and our experienced staff provides the efficiency needed to turn around your test results quickly and accurately.
During every phase of your project, AET offers the aggregate testing services you need. From laboratory testing and physical characterization for source selection to on-site quality control monitoring at the source production facility to laboratory testing during construction – we work to verify that aggregate physical properties will meet the performance requirements for your project specifications.
Our Accreditations include AASHTO and The US Army Corp of Engineers
Our offices in Saint Paul, Rochester, Duluth, Wausau, Sheridan, Casper, Gillette, and Sioux Falls are accredited by the AASHTO Accreditation Program (AAP) in geotechnical and construction materials engineering and testing. Our Quality Management System also meets the requirements of the US Army Corps of Engineers (USACE) and our offices in Saint Paul Rochester, Duluth, and Rapid City carry a USACE validation designation.
We work closely with ASTM in the development of aggregate test methods, testing guidelines and specifications.
We offer a full range of aggregate testing and characterization
Some of the testing we perform on a regular basis is noted below. If you need further details or additional tests, please contact us.
AASHTO R76: Standard Practice of Reducing Samples of Aggregate to Testing Size
AASHTO R90: Standard Practice of Sampling Aggregate Products
AASHTO T11: Standard Method of Test for Materials Finer Than 75-Μm (No. 200) Sieve in Mineral Aggregates by Washing
AASHTO T19: Standard Method of Test for Bulk Density ("Unit Weight") And Voids in Aggregate
AASHTO T21: Standard Method of Test for Organic Impurities In Fine Aggregates For Concrete
AASHTO T27: Standard Method of Test for Sieve Analysis of Fine and Coarse Aggregates
AASHTO T71: Standard Method of Test for Specific Gravity and Absorption of Fine Aggregate
AASHTO T85: Standard Method of Test for Specific Gravity and Absorption of Coarse Aggregate
AASHTO T96: Standard Method of Test for Resistance to Degradation of Small-Size Coarse Aggregate by Abrasion and Impact in The Los Angeles Machine
AASHTO T104: Standard Method of Test for Soundness of Aggregate by Use of Sodium Sulfate or Magnesium Sulfate
AASHTO T112: Standard Method of Test for Clay Lumps and Friable Particles In Aggregate
AASHTO T113: Standard Method of Test for Lightweight Particles in Aggregate
AASHTO T176: Standard Method of Test for Plastic Fines in Graded Aggregates and Soils by Use of The Sand Equivalent Test
AASHTO T210: Standard Method of Test for Aggregate Durability Index
AASHTO T255: Standard Method of Test for Total Evaporable Moisture Content of Aggregate by Drying
AASHTO T304: Standard Method of Test for Uncompacted Void Content of Fine Aggregate
AASHTO T327: Standard Method of Test for Resistance of Coarse Aggregate to Degradation by Abrasion in The Micro-Deval Apparatus
AASHTO T335: Standard Method of Test for Determining the Percentage of Fracture on Coarse Aggregate
ASTM C29: Standard Test Method for Unit Weight and Voids in Aggregate
ASTM C40: Standard Test Method for Organic Impurities in Fine Aggregates for Concrete
ASTM C70: Standard Test Method for Surface Moisture in Fine Aggregate
ASTM C87: Standard Test Method for Effect of Organic Impurities in Fine Aggregate on Strength of Mortar
ASTM C88: Standard Test Method for Soundness of Aggregates by Use of Sodium Sulfate or Magnesium Sulfate
ASTM C117: Standard Test Method for Materials Finer Than 75-Μm (No. 200) Sieve in Mineral Aggregates by Washing
ASTM C123: Standard Test Method for Lightweight Particles in Aggregate
ASTM C127: Standard Test Method for Relative Density (Specific Gravity) and Absorption of Coarse Aggregate
ASTM C128: Standard Test Method for Relative Density (Specific Gravity) and Absorption of Fine Aggregate
ASTM C131: Standard Test Method for Resistance to Degradation of Small-Size Coarse Aggregate by Abrasion and Impact in The Los Angeles Machine
ASTM C136: Standard Test Method for Sieve Analysis of Fine and Coarse Aggregates
ASTM C142: Standard Test Method for Clay Lumps and Friable Particles in Aggregates
ASTM C295: Standard Guide for Petrographic Examination of Aggregates for Concrete
ASTM C535: Standard Test Method for Resistance to Degradation of Large-Size Coarse Aggregate by Abrasion and Impact in The Los Angeles Machine
ASTM C566: Standard Test Method for Total Evaporable Moisture Content of Aggregate by Drying
ASTM C641: Standard Test Method for Iron Staining Materials in Lightweight Concrete Aggregates
ASTM C702: Standard Practice for Reducing Samples of Aggregate to Testing Size
ASTM C1252: Standard Test Methods for Uncompacted Void Content of Fine Aggregate (As Influenced by Particle Shape, Surface Texture, and Grading)
ASTM D75: Standard Practice for Sampling Aggregates
ASTM D2419: Standard Test Method for Sand Equivalent Value of Soils and Fine Aggregate
ASTM D3744: Standard Test Method for Aggregate Durability Index
ASTM D4791: Standard Test Method for Flat Particles, Elongated Particles, Or Flat and Elongated Particles in Coarse Aggregate
ASTM D5821: Standard Test Method for Determining the Percentage of Fractured Particles in Coarse Aggregate
Contact a Laboratory Professional
AET Senior Petrographer, Chris Braaten, PG, CPG, presents an overview of potential impacts of various aggregate components on concrete…
Let's discuss how we can support your project