Concrete Laboratory and Concrete-Related Materials Testing and Services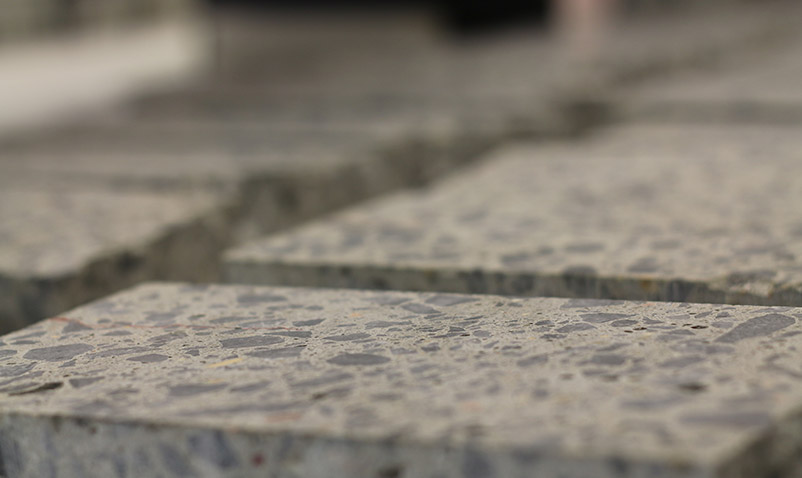 Our reliable and timely concrete and construction materials services assist State agencies, owners, concrete producers, contractors, engineers, and designers to qualify materials, investigate emerging materials and meet specifications. We leverage our expertise in evaluating samples, diagnosing problems, and finding solutions to ensure products perform as expected and clients achieve project goals in a more cost-effective way. 
AET's internationally-recognized concrete and concrete-related materials laboratories offers comprehensive testing, analysis, characterization, and evaluation of a wide range of constructions materials, for example: cementitious materials, chemical admixtures, concrete, curing compounds and membranes, bagged repair products, grouts, masonry, pavers, veneers, and stone.
Our team brings unparalleled experience with routine, specialized and unique testing. we offer one of the largest lists of services in the industry, with over 500 standard tests on construction materials.
However, we are much more than just a cement and concrete testing laboratory. For over 30 years we have offered construction materials services, including concrete mixture development and qualification, project specification development, preparation of QA/QC plans, durability evaluation, consulting and applied research, training and education, and technology transfer.
Much more than a concrete/cement testing laboratory – we're a one-stop shop for concrete-related materials services
With our extensive experience and service offerings we deliver much more than test results – we provide clients with a better understanding of the expected performance of their materials, including the thermal behavior of mass concrete elements in their projects.
We can also consult on ways to better utilize materials, and provide recommendations on adjustments that may be needed or would be beneficial.
We are able to provide reliable and timely assessments of concrete-related materials, by working synergistically with other AET professionals, to find solutions for clients that require a more holistic approach. Where needed, we have access to staff with related expertise in petrography, chemistry and asphalt lab services; geotechnical and structural engineering; and the repair and replication of historic construction materials.
The experience and knowledge to deliver results you can trust
AET delivers construction materials testing and services you can trust. The AET Concrete/Cement Laboratory has tested and provided different services related to concrete and other cement-based materials for projects across the US and around the world. We support the construction and renovation of heavy civil projects, high-rises, commercial buildings, industrial and agricultural structures, roadways, bridges, municipal airports and defense projects (military bases), rail and transit projects, dams, and various other infrastructure. 
AET expertise and range of services are valued by technical organizations such as AASHTO, which has contracted us under its National Transportation Product Evaluation Program (NTPEP). Since 2014, AET has been one of only two commercial testing laboratories in the country authorized to test Concrete Admixtures for state sourcing. Recently, NTPEP authorized AET and another commercial laboratory to test Curing Compounds for state sourcing.
Additionally, AET is one out of only three commercial laboratories authorized to test Portland and Blended Cement for state sourcing.
We are an AASHTO accredited and a US Army Corps of Engineers (USACE) Validated laboratory. We have staff who are American Concrete Institute (ACI) certified Cement Physical Testers, Concrete Field and Laboratory Technicians. We also participate in the Cement and Concrete Reference Laboratory (CCRL) Proficiency Sample Program for Portland Cement, Blended Cement, Pozzolan, Masonry Cement, Masonry Mortar, Alkali Silica Reactivity, and Concrete. We are inspected by CCRL biannually.
AET professionals are also active members of the concrete industry and hold leadership positions in technical organizations such as ASTM, ACI, TRB, and PCI. We have also contributed to improvements in the industry through participation in the development, adaptation, and implementation of many test standards.
Concrete and Concrete-related Materials Testing and Services
AET is nationally recognized for its broad testing capabilities. Please contact us to confirm our availability to conduct relevant tests or services that are not listed.
Concrete types
normal weight, lightweight, heavyweight
cellular concrete
epoxy concrete
fiber reinforced concrete
high performance
mass concrete
paving concrete
performance engineered mixtures
self-consolidating
foamed concrete
Concrete testing 
Mixture proportioning, verification, and qualification.
Fresh properties: slump, box test, VKelly, air content, Super Air Meter – SAM, bleeding, setting.
Hardened properties: maturity, compressive strength, flexural strength, splitting tensile strength, modulus of elasticity, creep, shrinkage.
Durability related: ASR, corrosion inhibiting, chloride penetration, resistivity, formation factor, shrinkage, cracking potential, apparent chloride diffusion, absorption, freeze-thaw, scaling resistance, cracking potential.
Concrete constituents 
Aggregates
Cementitious materials – Portland cements, limestone cements, blended cements, slag cement, fly ashes, silica fume, metakaolin

Admixtures

Specialty admixtures: Shotcrete admixtures, pigments, shrinkage reducing, viscosity modifiers, workability retaining, admixtures for masonry mortars, corrosion inhibiting, admixtures for flowing concrete
Pigments

Repair products
Curing compounds, membranes, concrete coatings, waterproofing, and sealants
Grouts
Mortars
Masonry bricks, blocks, thin brick veneers, pavers, dimension stone
 National Transportation Product Evaluation Program (NTPEP) testing 
Concrete Admixtures
Curing Compounds
Portland and Blended Cements
Specialized Testing
Concrete Coefficient of Thermal Expansion (AASHTO T 336)
Creep of Concrete (ASTM C512)
Box Test in Slip Form Paving (AASHTO TP 137)
Characterization of the Air-Void System of Freshly Mixed Concrete by Super Air Meter (SAM) (AASHTO TP 118)
Vibrating Kelly Ball (VKelly) Penetration (AASHTO TP 129)
Development of Strength-Maturity Curve (ASTM C1074)
Surface Resistivity (AASHTO T 358) Uniaxial Resistivity (AASHTO TP 119 and ASTM C1876) of concrete cured in moist room or in calcium hydroxide-saturated, simulated pore solution (previously referred as the "bucket test")
Potential Alkali Reactivity of Aggregates and Effectiveness of ASR Mitigation Measures by MCPT (AASHTO T 380)
Bond Strength of Epoxy-Resin Systems (ASTM C882/882M)
Bond Strength or Tensile Strength of Concrete Repair and Overlay Materials by Direct Tension (Pull-off Method) (ASTM C1583/C1583M)
Water Absorption of Hardened Concrete Treated with a Water Repellent Coating (ASTM D6489)
Modified ASTM D5334 for determining thermal conductivity of concrete
Hydrostatic Pressure Resistance of Waterproofing Membranes (ASTM D5385/D5385M)
CRD-C 662-10 Potential ASR Mitigation with Lithium Admixture
Foam Index for Fly Ash Evaluation 
Flexural Performance of Fiber-Reinforced Concrete (Using Beam with Third-Point Loading) (ASTM C1609/C1609M)
Concrete Mixture Development, Optimization and Qualification
AET is recognized for its extended experience in concrete mixture development, optimization, and qualification services. Our staff has decades of experience in mixture design. We serve a variety of applications, such as pavements, wind farms, airfields, commercial airports, wastewater treatment plants, buildings, and infrastructure structures. Our services range from verifying and qualifying mixtures according to specific requirements (trial batches), evaluating performance of concrete mixtures, developing mixtures to achieve specific performance requirements, to optimizing existing mixtures.
Analysis of Concrete Thermal Behavior for Mass Concrete and Other Applications
Mass concrete refers to a very large concrete pour where excessive heat can build up as the concrete cures. If not managed properly, this heat can lead to cracking and durability issues, which will reduce the service life of the concrete. Many owners, both public and private, now include provisions for mass concrete in their specifications, so understanding and controlling the concrete thermal behavior is essential to the success of these projects.
AET mass concrete specialists will prepare a Thermal Control Plan to estimate and monitor the thermal behavior of mass concrete elements in your project. The plan includes comprehensive mass concrete services.
Concrete Mix Design
Laboratory testing of field-batched concrete
Field testing of instrumented specimens
Assessment of onsite practices and construction materials
Analytical modeling of heat development
Guidance on field monitoring of the placement
Consulting on management and mitigation of heat
Educating practitioners on the impact different parameters have on the outcome
Concrete thermal behavior is also important in applications other than mass concrete. Two examples where thermal properties are important are maturity and thermal resistivity. Control of the thermal resistivity of concrete is commonly required on wind turbine and data center projects. A maturity curve, which combines temperature history with strength, can accelerate construction schedules on many types of projects.
Defense and FAA Projects
AET is an all-inclusive resource for defense and FAA projects throughout the world. The submittal process to the Army Corps of Engineers can be overwhelming, but AET is uniquely qualified to providing services to contractors working for defense and FAA projects:
The concrete laboratory has one of the largest validations by the US Army Corps of Engineers
In-depth knowledge and experience with the USACE specifications
Extensive experience with the Army Corps submittal process
Our large number of projects and clients results is the safe choice for contractors to be successful on USACE specification related projects
Significant experience with concrete and concrete material evaluation for runway pavements, associated airport additions, wind farms, dams, spillways, tunnels etc.
Review and Development of Concrete Project Specification
AET offers review and revision of existing concrete specifications, as well as development of concrete specifications, so that our clients not only comply with relevant standards, but also achieve the intended performance in terms of constructability, strength, dimension stability, and durability. We provide concrete specification services for a variety of applications, for example, buildings, pavements, wind farms, airports, wastewater treatment plants, and bridges.   
Alkali Silica Reactivity (ASR) and Alkali Carbonate Reactivity (ACR) Investigation
In conjunction with the petrographic laboratory, the concrete/cement laboratory has a long history of evaluating ASR and ACR in materials proposed for use. AET possesses extensive experience  with all the various tests associated with evaluationof ASR and ACR for materials qualification purposes.
Preparation of Concrete Quality Assurance/ Quality Control (QA/QC) Plans
AET offers concrete QA/QC plan services to help owners and contractors to achieve the results they want and need.     The complexity of each QA/QC plan we develop depends on the needs of each project, the project's specifications and specific agency's standards and regulatory codes.  
Performance Engineered Mixtures (PEM)
AET has been involved in the qualification process of mixtures intended to be used in "shadow projects", training personnel on these tests, as well as, in the preparation of shadow projects reports. In addition, some of the AET's staff has been involved in research related to PEM, in evaluating some of these new testing methodologies and in the process of standardization of such tests.
As a result, AET is in a unique position to provide PEM related services to DOTs and contractors. They include mixture design, verification/ qualification, according to AASHTO PP 84 and State specifications, preparation of specification, training, and technology transfer.
Training, Education & Technology Transfer
Our team of professionals provides hands-on training, as well as educational and technology transfer seminars — to keep clients up to date and explain the uses and implementation of new tests and technologies. We design webinars addressing the specific needs of our clients.    
Contact a Laboratory Professional
AET Senior Petrographer, Chris Braaten, PG, CPG, presents an overview of potential impacts of various aggregate components on concrete…
Let's discuss how we can support your project