At AET we're working together to build a more certain world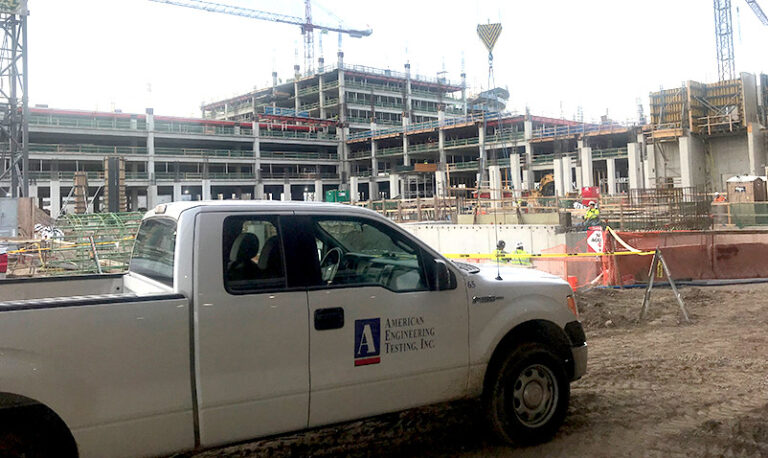 For 50 years, quality-focused clients have trusted American Engineering Testing (AET) to perform the investigations, testing, inspections, analysis, and consulting that are critical for maximizing the performance and safety of materials used in horizontal and vertical construction projects.
AET professionals focus on the constructability of your project and we work with many project stakeholders including designers, contractors, and owners, to reduce the uncertainties that can impact project viability.
We offer a wide range of services that help clients identify and evaluate challenging site conditions, geological hazards, and environmental contaminants, as well as performance issues with building and construction materials. We then develop recommendations, engineering solutions, or remedial actions to help you reduce or manage these risks.
We partner with our clients to help them make the tough decisions
We offer you more than just a report filled with data. Our clients benefit from our team's unique knowledge base and extensive project experience, supplemented with our specialized laboratory services. Our consultants can be relied upon as a resource, and not just as an entity performing tests and providing results.
As an AET client, we'll consult with you to understand your unique situation and the constraints you must work within. We use relevant technologies, equipment, and software tools to gather and analyze data, evaluate conditions, and interpret the results for you. Then our consultants walk you through the data and analysis, giving you the confidence to make those difficult decisions that strike a balance between cost savings and longevity, material suitability and availability, and performance.
You can trust in our expertise, problem-solving skills, and thoughtful recommendations help you choose the best approach to meet your project goals, schedule, and budget.
AET expertise includes Engineering, Environmental, Forensic, Geotechnical, and Laboratory Services
The AET team supports the new construction of buildings and roadways, as well as renovation/repair or redevelopment of existing structures, and the repair and rehabilitation of pavement and other infrastructure.
Our services include:
AET team members work across disciplines to test and evaluate materials, assess performance, investigate problems, and uncover hidden risks that impact project goals – during all construction phases and throughout the lifecycle of a structure.
We have built an international reputation as trusted professionals
AET serves clients from our offices in Minnesota, Wisconsin, North Dakota, South Dakota, and Wyoming. We can quickly assemble mobile teams to meet client needs in most US states. In addition, some AET service lines routinely support international projects. For example, AET has provided construction materials testing and evaluation, asphalt and concrete mix design, pavement engineering, and forensic engineering services all over the world.
Our internationally-recognized accredited laboratories specialize in unlocking the reasons for performance deficiencies in aggregates, cement, concrete, and other construction materials. We are also sought out to test new building materials, coatings, admixtures, and other products for suppliers. The AET Petrography Group is the largest in North America and one of the most respected in the world.
AET is a national leader in the development of research-based construction materials testing standards and specifications. Our laboratories also participate in state and federal agency studies to assess and promote new testing technologies that will positively impact building codes across the nation. We have extensive experience conducting investigational studies and applied research for state DOTs and the Federal Highway Administration. AET is also involved in ongoing research to improve pavement industry software packages.
For 50 years, AET has helped clients overcome diverse and difficult project challenges through our exceptional geotechnical, construction materials, building technology, and environmental capabilities — often with award-winning results. You can trust AET to provide the crucial input that brings predictability to your project.
Large chemical holding tanks are often constructed with numerous large plates, welded together on site. This construction method means that every weld must be
Grain storage and handling is big business. Issues such as storage capacity and speed to market are increasing demands on producers and suppliers. As
Let's discuss how we can support your project