Nondestructive Testing (NDT) and Inspection Services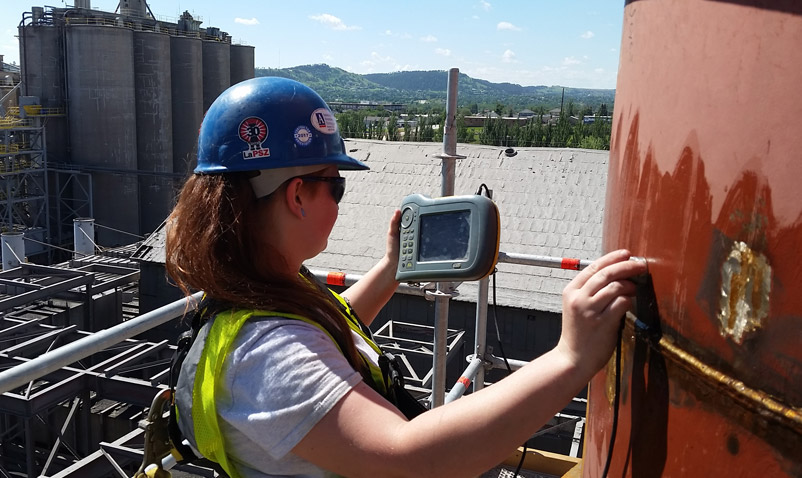 Clients around the world rely on the AET Nondestructive Testing (NDT) team to assess the quality, performance, and safety of a wide variety of parts, equipment, building materials, and structures.
Our NDT Team uses state-of-the-art testing and inspection methods and techniques to examine materials for defects — without taking physical samples or cores of the material. We provide a full range of NDT methods, including ultrasonic, radiographic, magnetic particle, penetrant, and visual testing services. Where needed, we offer advanced technology, including phased array ultrasonic units, to provide better accuracy in locating defects.
We routinely inspect both fabricated and forged metal parts and equipment. We also work with building contractors across the nation, visiting construction sites to inspect building materials.
Nondestructive testing and inspection help clients minimize risk
Our goal is to help clients provide materials that meet project specifications and are safe and durable for their intended use. We help our clients avoid costly repairs that could have jeopardized project schedules and significantly reduce the risk of system failures that can cause safety issues and impact the environment.
The nationally recognized NDT Team offers Certified Weld Inspector services and technicians certified in accordance with ASNT-TC-1A. We perform inspections in accordance with AWS, AISC, ASME, API, AWWA, NACE and military standards. We help clients meet various codes and client specifications. Our technicians are highly qualified, work efficiently and deliver detailed reports.
Our clients include engineers, general contractors, project managers and owner's agents so we understand the need for accuracy, facility safety and reducing project delays. Beyond testing and inspections, we combine our knowledge of codes and specifications with our understanding of the specific use of each component.
At your site or ours – we provide the NDT services you need
As an AET client, you'll have highly responsive professionals available when you need them. We maintain 2800 square feet of lab space in our Saint Paul, Minnesota office and additional lab space in our Sioux Falls, South Dakota and Wausau, Wisconsin offices. Most of our services are also portable and can be brought to your facility.
We offer our services where we can provide the best service possible. This includes shipping smaller items for inspection at AET in-house laboratories, using labs based at fabrication facilities, and bringing mobile equipment to job sites.
Our NDT team inspects the integrity of welds, bolts, castings, plates, forgings and concrete for national and international clients in a wide variety of industries. These include manufacturing; refineries and chemical plants; piping fabricators; structural steel fabricators, bridge fabricators, defense industry, and fall-protection equipment manufacturers and installers.
Contact our department representative to discuss how our capabilities can meet your project needs.
AET offers a full range of nondestructive testing and inspection
We provide certified technicians capable of a full range of testing and examination methods:
Ultrasonic Testing (UT)
Phased Array Ultrasonic Testing (PA)
Radiographic Testing (RT)
Digital Radiography (DR)
Magnetic Particle Testing (MT)
Penetrant Testing (PT)
Visual Testing (VT)
Remote Visual Testing
Hardness Tests
Weld Procedure and Qualification
Contact a Nondestructive Testing Professional
Nondestructive Testing Projects
Large chemical holding tanks are often constructed with numerous large plates, welded together on site. This construction method means that every weld must be
AET is part of team working to assess the current condition and determine the remaining service life of a landmark bridge. If you've driven
Congratulations to Dave and Kate on their new C-Suite appointments…
Let's discuss how we can support your project