Pavement Engineering Services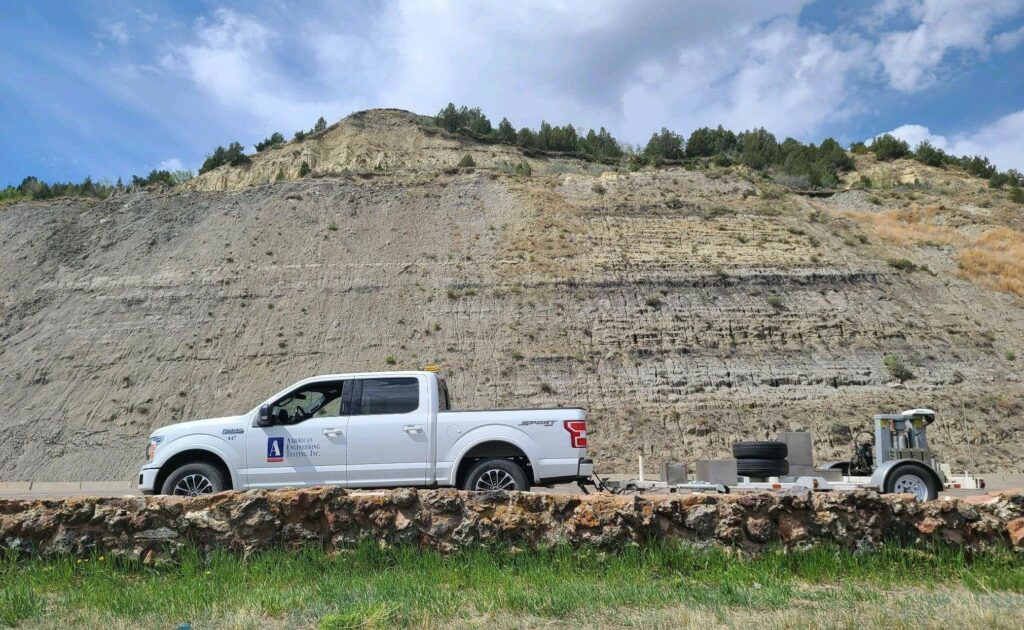 The AET Pavements Group is a leading provider of pavement engineering services. Our engineers consult on roadways, parking lots, and airfield projects throughout the world.
We assist owners and contractors in the design, construction, performance, rehabilitation, maintenance, and management of pavements. These services include consulting; lab and field investigations of surfacing and subsurface materials; evaluations of rehabilitation and reconstruction options for existing roads; and mix designs for hot-mix asphalt, cold-in-place recycling, stabilized reclaimed bases, and subgrade soils.
Our pavement professionals characterize pavement and material performance and estimate remaining pavement service life using tools such as ground penetrating radar (GPR), falling weight deflectometer (FWD) testing, structural modeling, and complex laboratory tests. Our pavement services are also supported by accredited in-house bituminous, concrete, and geotechnical laboratories.
Clients benefit from our pavement expertise
AET is an active, long-standing member of the transportation community. Our staff are active in industry organizations, including MAPA, NAPA, ACPA, and NCITE/ITE.
In addition to our work on municipal, county, and state roadways and airports, our staff have extensive experience conducting investigational studies and applied research for state DOTs and the Federal Highway Administration. AET is also involved in ongoing research to improve pavement industry software packages.
AET pavement engineers know what is needed for reliable pavement — from the subgrade to the surface. Our thorough knowledge of pavement materials, mix designs, and construction processes, means we bring contractors and owners together on pavement solutions that deliver optimal combinations of cost and performance.
When our clients talk we listen
We collaborate with our clients to understand their unique situations. Whether their perspective is one of an engineer, a general contractor, a project manager, or an owner's agent, each client faces constraints in managing their pavement systems. We develop a work plan to meet each client's specific project goals, schedule, and budget.
We help clients understand their options
We are well-equipped to investigate your site-specific conditions and gather pavement data. We then draw on our technical understanding of the pavement system, and our applied understanding of the costs and challenges involved, to evaluate alternative pavement solutions. This includes how reconstruction or rehabilitation choices ultimately impact life cycle and budget.
AET pavement professionals are licensed Professional Engineers and have performed work in most of the US states and territories and many countries. Our services are highly regarded by state and county transportation departments, civil design consulting engineers, construction contractors, and private developers. Many of our general contractor clients select AET, over local options, to provide pavement services wherever they are needed.
Include our team at any stage of your pavement engineering project for timely, expert advice. Whether AET is involved in the initial planning stage or later review stages, our experience and capabilities in pavements help you anticipate needs and resolve issues with confidence
AET provides a wide range of pavement engineering services
Consulting
AET engineers consult on the design, construction, and review of roads and airfields in many capacities. Our services may include material testing and structural modeling to investigate distresses or other performance concerns; review of design plans and construction records in support of litigation; or many other activities that rely on our engineering evaluation and experience in pavements. In addition, our Pavement Group regularly performs studies in response to state DOTs and federal agency pavement research and implementation needs.
Field Evaluation
AET's well-traveled field crews perform tests and surveys of roads throughout the nation. Unlike other engineering firms, AET field evaluations of roads are supported by the review and analysis of engineers who work exclusively in pavement engineering and who can recognize specific pavement concerns in each field evaluation. Our regular field work includes, but is not limited to, falling weight deflectometer testing (FWD), ground penetrating radar (GPR) testing, dynamic cone penetrometer (DCP), pavement condition surveys, laser profilometer (smoothness/IRI) testing, and light weight deflectometer testing (LWD).  
Management / Rehabilitation / Maintenance
AET provides real-world solutions for pavement management, maintenance, and rehabilitation. We address construction, rehabilitation, cost-effectiveness, project efficiency, public safety, structure longevity and maintenance issues.
Mix Designs – cold recycling, stabilized full-depth reclamation, hot-mix asphalt, concrete, stabilized subgrades, and seal-coat treatments
We are industry leaders in pavement rehabilitation designs that include cold-in-place recycling (CIR) and stabilized full-depth reclamation, using a variety of stabilizing materials (asphalt emulsion, foamed asphalt, cement, fly ash, and chemical stabilizing agents). We excel at the implementation of soil stabilization, using a variety of subgrade modification techniques in areas where wet or highly plastic soils are encountered.
We also excel in bituminous and concrete mix designs for both temporary and permanent pavements that will be exposed to heavy loads and extreme environmental conditions.  
Pavement Laboratory Testing 
The AET Bituminous/Soils Laboratory for pavement evaluation, located in Saint Paul, Minnesota, supports projects around the world. Our capabilities extend beyond basic asphalt testing to include sophisticated asphalt fracture, rutting, dynamic modulus, tensile bond, and other tests to characterize asphalt paving materials. The laboratory regularly tests base and subgrade materials to characterize either material properties or bulk layer properties for mechanistic-empirical pavement designs.
Overview of AET Pavement Engineering Services 
Consulting
Specification creation/modification and best practices manuals
Maintenance activities/schedules
New product implementation plans and research
Pavement design optimization
Pavement management
Rehabilitation alternatives development
Research program coordination
Field Testing
Falling Weight Deflectometer (FWD) testing and analysis
Ground Penetrating Radar (GPR) testing and analysis
High speed profilograph testing (International Roughness Index/IRI)
Retroreflectivity measurement
Pavement condition evaluations
Lab Testing
Cold-in-Place Recycling mix designs
Stabilized full-depth reclamation mix designs
Bituminous mix designs
Concrete mix designs
Chip seal mix designs
Soil-cement mix designs
Contact a Pavements Professional
Over 2,300 truck trips are typically required to drill and develop an oil well in North Dakota. After completion, it is important to sustain
The North Dakota Bakken oil patch can be a challenging place to work for many reasons, not the least of which are the short
AET Senior Petrographer, Chris Braaten, PG, CPG, presents an overview of potential impacts of various aggregate components on concrete…
We welcome our new AET team members in Bismarck, Fargo, and Grand Forks, North Dakota;  St Paul, Minnesota; and Rapid City, South Dakota!
Let's discuss how we can support your project