Environmental Consulting Services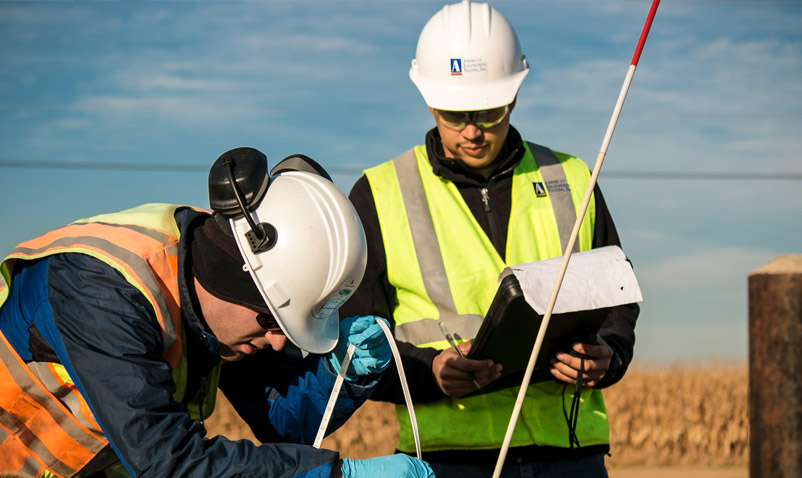 AET Environmental Testing Webinar:
Environmental Site Assessments — New Standard Practices
Navigating the complex maze of environmental rules and regulations becomes a bigger challenge every year.
Your primary job may be running an organization, keeping a manufacturing plant compliant with its permits, or redeveloping a parcel of land. Our job, as your trusted partner, is to understand your organization and the complex local, state and federal environmental requirements you face.
We understand that environmental issues are also business issues
AET Environmental Project Managers are experienced scientists and engineers who focus on delivering solutions that are timely, practical and make good business sense. We work as your liaison with regulators to help address the needs of all parties.
For example, we can help you determine which environmental permit best suits your facility or how to best approach the investigation and cleanup of a contaminated parcel of land to meet your budget and schedule.
AET offers a full range of environmental consulting services 
Environmental site assessments (Phase 1 and Phase 2)
Brownfields redevelopment assistance
Asbestos and hazardous materials surveys
Soil vapor intrusion assessment and mitigation
Agricultural chemical contamination
Industrial and construction stormwater compliance
Air permitting and stack testing
Remediation and mitigation services
Environmental review (NEPA compliance)
Indoor air quality
Environmental field services
Environmental compliance and permitting
AET has provided environmental consulting for over 40 years
We aren't the new kid on the block – AET has provided environmental consulting services since 1990. Our staff have delivered thoughtful environmental solutions to clients throughout the Upper Midwest, as well as across the nation.
Most industries face environmental challenges and there are few environmental issues we haven't seen. We have worked with clients in many sectors, including energy; manufacturing; mining; agriculture; real estate; financial services; and non-governmental organizations; as well as local, state, and federal agencies.
Trust AET to help you manage environmental challenges
AET environmental consulting professionals take ownership interest in our clients' challenges. Include AET environmental consulting professionals on your team when faced with updating your processes, acquiring land or facilities, or when you need environmental plans, testing, or permitting to stay compliant.
Don't hesitate to contact us for a quick consultation on your plans and ideas. We are here to help you succeed.
Our environmental services are summarized below.
Environmental Due Diligence & Environmental Site Assessment  (Phase 1 and 2) 
Prior to purchasing or selling property, real estate professionals and their clients hire an environmental consultant to conduct a "due diligence" assessment that will evaluate environmental risks associated with current and historical use of the property. AET has the experienced environmental professionals to help you meet due diligence requirements by performing a Phase I Environmental Site Assessment (Phase I ESA) in accordance with both Federal (All Appropriate Inquiries) and industry (ASTM 1527) standards.
If contamination is suspected based on the findings of a Phase I ESA, AET environmental professionals design a subsurface investigation (Phase II Site Investigation) to confirm whether contamination exists, or not. If contamination is confirmed, we are highly experienced with remediation and mitigation services.
AET also has qualified professionals that can conduct surveys, evaluate, and manage the potential presence of asbestos-containing materials (ACM), lead-based paints (LBP) and other hazardous materials in structures — prior to renovation or demolition.
Brownfields Redevelopment Assistance
AET has extensive experience providing award-winning environmental consulting and oversight services on Brownfield redevelopment projects, ranging from less than one acre to well over 100 acres. We work with project and agency stakeholders to help balance economic resources with environmental challenges. This includes a good track record of assisting clients with obtaining available investigation and cleanup grants to offset environmental costs.
Our interaction with developers is a natural extension of AET geotechnical and construction services consulting services and our service lines often work in tandem, to provide timely and cost-effective subsurface investigation and remediation services. 
Asbestos and Hazardous Materials Management
AET has the certified professionals to assist you with the management of asbestos, lead-based paint and other hazardous materials, whether it is included in the service package for environmental due diligence, Brownfields redevelopment assistance, or stand-alone services as part of a planned demolition or renovation of a building. Our staff includes licensed asbestos inspectors, supervisors, management planners and project designers, and lead building inspectors/risk assessors to assist you with your needs.
Soil Vapor Intrusion – Assessment and Mitigation
Intrusion of contaminated soil vapors into occupied structures can expose occupants to concentrations above regulatory levels.  AET environmental professionals understand and track the ever-changing soil vapor regulations so we can assist clients with maintaining safe working and living environments.  Our team will help you determine if  potential for vapor intrusion exists at your property and, if so, provide the design and installation oversight services to implement an effective mitigation system.
Agricultural Chemical Contamination Assessment and Remediation
AET environmental professionals have provided services to agricultural chemical facilities involved with the handling, storage, distribution and manufacturing of various fertilizers and pesticides for over 20 years.  Services incluse assisting clients with the investigation and remediation of agricultural chemicals as part of facility construction and renovation projects.  AET professionals are experienced with shepherding project through the Minnesota Department of Agriculture (MDA) Pre-Construction, Voluntary and Comprehensive Programs.  In addition, AET environmental professionals are well versed in assisting clients with reimbursement through the Agricultural Chemical Response and Reimbursement Account (ACRRA) Board.
Stormwater
AET is very familiar with Federal, State and local stormwater management requirements and programs.   Let our certified environmental professionals assist you industrial and construction stormwater permitting and permit compliance requirements.  We provide services involving the application for sector-specific permits, preparation of the required stormwater pollution prevention plans (SWPPPs), stormwater quality management and testing, and all aspects of stormwater permitting and compliance. We also assist with the preparation of Spill Prevention, Control, and Countermeasure plans (SPCC). 
Air Permitting and Stack Testing
We specialize in pre-planning and site-specific test protocols to assess permitting compliance. Then we provide air emissions testing and operational process optimization to document compliance with state and Environmental Protection Agency (EPA) requirements. We also team with your Operations or Environmental Group to keep your facilities and permits up-to-date and in compliance.
Remediation/Mitigation Services
AET's environmental professionals have decades of experience as environmental remediation consultants. We have designed innovative clean-up plans to facilitate property transfers, managed facility-wide investigations and clean-ups, managed contaminated materials during site-specific redevelopments, and addressed abandoned or leaking underground tanks.
Working in a phased approach, our site assessment and investigation environmental professionals provide optimal information to address regulatory requirements and determine feasible remediation technologies. We then provide remediation design and oversight, contaminated materials management, and final regulatory reporting.
Environmental Review
AET environmental professionals assist clients with projects that require compliance with the National Environmental Policy Act (NEPA).  These requirements include preparing State (EAW) Federal (EAs) environmental reviews.  If AET does not have the specific expertise to respond to portions of the environmental review, we know where to find it and will pull the right experts onto the team.  Contact our environmental representative above to discuss your Environmental Review needs. 
Indoor Air Quality
AET environmental professionals can help solve your indoor air quality problems. We have worked with many organizations and building owners to assess and improve their building environments.
Some common Indoor Air Quality concerns include carbon dioxide, carbon monoxide, radon, volatile organic compounds, chemical contamination, furniture and carpet off gassing, relative humidity levels and excess moisture, particulates, Legionella, mold, allergens, and HVAC system air exchange rates.
We perform standard protocol tests, as well as one-of-a-kind programs, to address specific requirements and regulations. Through a customized comprehensive program, we assess the issues, develop protocols, and monitor the problems/contaminants. When needed, we also design remediation plans, assist with working new management programs into existing building maintenance programs, and if desired, monitor your progress. 
Environmental Field Services
Our field staff have significant experience providing environmental field services — in conjunction with environmental site investigation and remedial activities and to meet permit compliance for air emissions, wastewater, and stormwater discharges.   We own and maintain the latest soil and groundwater sampling equipment, including drill rigs, Geoprobes, PIDs, pumps, and field meters, as well as air sampling/monitoring equipment. This means we also control the scheduling of equipment, so we can ensure it will be available for work on time-critical projects, without the use of outside sub-consultants
Environmental Compliance and Permitting
AET environmental professionals can help you make sense of local, state and federal environmental regulations, as they relate to your facility. Our extensive experience consulting with, and working for, regulatory and government agencies enable us to provide advice and insights that help you understand and meet requirements. AET environmental professionals are available to conduct applicability reviews and compliance audits, as well as perform timely permitting, testing, monitoring, and reporting services to support a variety of compliance issues.
Contact an Environmental Professional
AET is part of team working to assess the current condition and determine the remaining service life of a landmark bridge. If you've driven
AET has installed an innovative and very cost-effective on-site stormwater infiltration system… If you visited the AET St. Paul office within the last six
Congratulations to Dave and Kate on their new C-Suite appointments…
Let's discuss how we can support your project