Construction Observation, Testing, and Inspection Services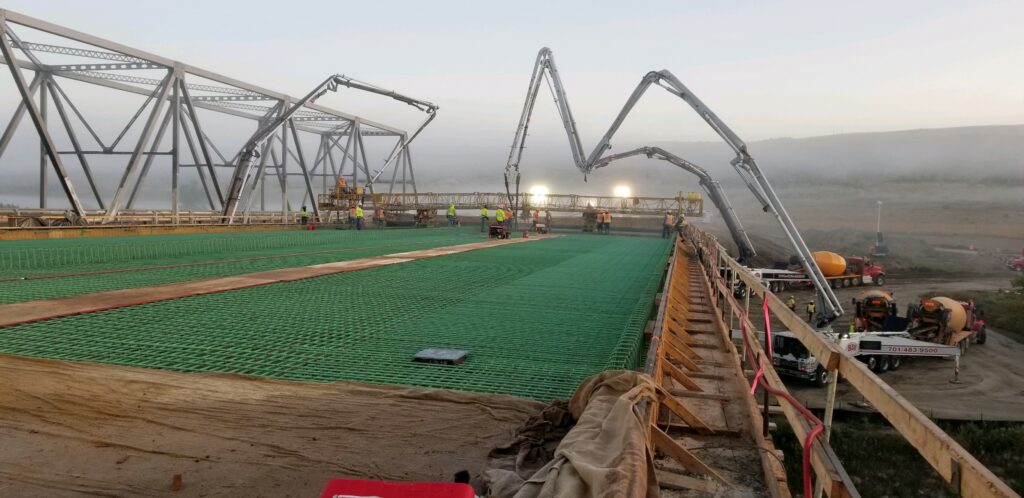 Owners, engineers, and contractors trust AET to document that buildings and infrastructure are constructed in accordance with design documents and project specifications.
As an AET client, you gain a partner in pre-planning, building material verification testing, special inspections, and quality assurance/quality control for all phases of your project. We have set the groundwork for successful projects in all 50 states and around the world.
When you need observations of soil excavations, deep foundations, reinforcing steel, concrete, masonry placement, or structural steel placement and their connections, AET is the firm to assist you in project specification conformance. Our professionals consult across multidisciplinary departments to test, report, guide and troubleshoot on each client project — from the subsurface geology to the foundations and selected construction materials.
Trust AET to identify and solve construction deficiencies
Solving problems, often before they happen, is a strength at AET. Our senior professionals draw upon their vast construction experience to deliver technically sound recommendations that are also practical for constructability, schedule, and budgets. We also have a proven track record in identifying and finding solutions for construction deficiencies, ultimately protecting people and projects. Our solutions result in well-built projects that function as intended for the end users.
Our project experience with structures is diverse, ranging from commercial construction to regulatory-intensive government projects like military bases, airfields, and high-security buildings. We also have extensive experience supporting construction projects for roadways, bridges, rail, transit, airports, and other infrastructure.
We bring an understanding to your construction challenges because our engineers have worked in the field on thousands of projects. This allows us to reduce risk by bringing practical solutions to your project from design to delivery. By bringing us in early in the design phase, our team joins your team — forging a collaborative and trusted partnership.
Construction testing, observation and inspection to support your vertical and horizontal construction projects.
By choosing to partner with AET, clients gain the efficiency of a one-stop partner for responsive and thorough analyses, reports, and recommendations. 
Below is an overview of our services. Please contact us to discuss your specific project needs.
Construction Materials Testing & Special Inspections
AET's construction material testing and special inspection services reduce risk on your horizontal and vertical construction projects. Preventing structural defects and failures, verifying material quality, and observing construction workmanship are vital for protecting both people and your investment.  Our construction services go well beyond testing and observation to include consulting on many other phases of a project.
Learn more about testing and inspection
Construction Materials Testing Laboratories 
AET owns and operates 19 accredited independent construction materials testing labs in the Upper Midwest and Wyoming. Our lab professionals test and evaluate soils and aggregates, asphalt, concrete, mortar; and other cementitious materials used in the construction of roadways, buildings, and other structures. We also conduct product testing on a wide range of sealants, coatings, admixtures, and building materials.
Learn more about our laboratory services
Buildings & Structures
Ensuring that your building or structure adheres to the approved design criteria is critical. You need a trusted partner to avoid potential material failures and replacements and to ensure that your investment is constructed according to project specifications, design documents, and industry standards. Whether you need steel and concrete inspections, field density testing, subgrade proof rolling inspections, or floor flatness testing, AET delivers for you.  
Roadway / Heavy Civil
Roadway and heavy civil construction projects are complex, often involving multiple scopes of work being performed concurrently, across large project footprints and geographic areas. You need a partner with certified staff and multiple mobile teams experienced with working in active traffic zones, while observing earthwork and utility construction or providing rebar inspections and concrete testing on bridges, dams, levees, or utility projects.
Alternative Delivery Approaches
There is a growing interest by public and private entities to acquire horizontal and vertical construction projects through alternative delivery methods. AET is experienced in working collaboratively with owners, designers, and contractors on Design-Build, Construction Manager at Risk, Construction Manager/General Contractor, and Public/Private/Partnership (P3) contracts.
Our role in these projects goes beyond special inspections and construction materials testing to include management services such as material exception summaries and final certification/project closeout documentation. Our previous experience on these contracts translates into potential cost savings on design and materials.
Contact a Construction Services Professional
Construction Services Projects
AET Senior Petrographer, Chris Braaten, PG, CPG, presents an overview of potential impacts of various aggregate components on concrete…
We welcome our new AET team members in Bismarck, Fargo, and Grand Forks, North Dakota;  St Paul, Minnesota; and Rapid City, South Dakota!
Congratulations to Dave and Kate on their new C-Suite appointments…
Let's discuss how we can support your project