Experience with Diverse Commercial Projects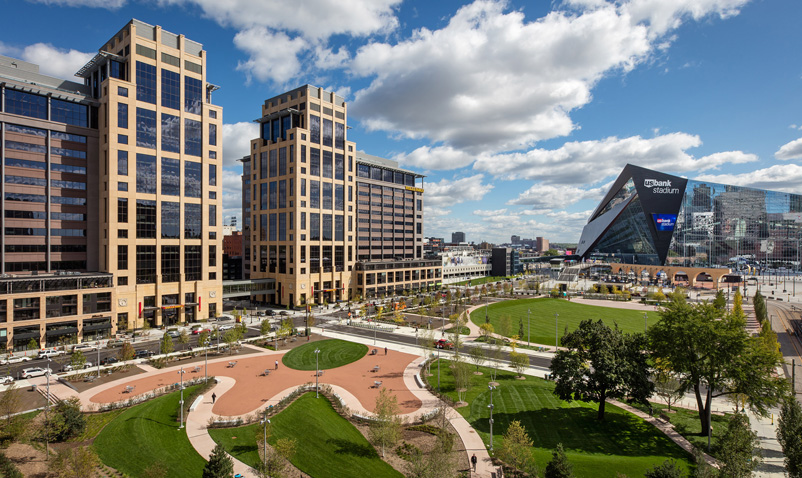 Our team understands the often fast-paced nature of the commercial marketplace — time is money! At AET, we know you're pressured to make new projects happen quickly and efficiently. Whether you are planning a new commercial project, evaluating existing properties, or preparing for a renovation — you can rely on AET to provide the testing, investigations, analysis and consulting that will help your project succeed.
For 50 years AET has provided a wide range of services on thousands of building projects throughout the Upper Midwest, including geotechnical, environmental, pavement, construction materials testing and evaluation, and building technology services. Our in-house materials testing and evaluation laboratories provide services to support thousands of projects each year– across the US and around the world.
We work on projects of all sizes, from small retail sites to tall buildings, stadiums, event centers, churches, industrial plants, and office/warehouse structures – often with award-winning results.
New Construction and Redevelopment of Properties
Our services often begin with pre-planning environmental due diligence services, including asbestos and hazardous material surveys. We also provide Brownfields redevelopment assistance and, when needed, environmental remediation planning, coordination, and implementation. Our Environmental professionals guide clients through the due diligence process by evaluating potential environmental issues and recommending actionable solutions that keep projects moving.
Our Geotechnical teams drill soil borings and develop foundation design and earthwork recommendations. They also assist our Construction Materials Group with geotechnical instrumentation and other construction phase services — to help anticipate and reduce jobsite issues.
We often provide pre-construction condition assessments and vibration monitoring on projects where there is a potential for vibrations from construction activities to damage surrounding structures.
During construction, we perform independent QA/QC construction materials testing and inspection services to document that your building was constructed in accordance with the plans and specifications, as well as construction stormwater permitting and compliance.
Parking lot and approach roadway pavements are areas of concern on many projects and can be maintenance headaches. Our Pavements Group is experienced with these specific challenges that building owners face. AET can provide building access during evaluation and maintenance, maintaining proper drainage and handling construction challenges in tight corners or around inlets. We also own state-of-the-art tools for conducting more comprehensive evaluation services, such as falling weight deflectometer (FWD) and ground penetrating radar (GPR) testing.
Existing Buildings — Condition Assessments and Building Forensics
AET provides investigative and analytical services to diagnose the underlying issues for a variety of building problems. This includes building condition assessments; documentation of building and structural systems; roof surveys; building envelope evaluations, testing, design, and construction services; historic building repair, rehabilitation, and adaptive re-use; and specialized field and laboratory evaluations of construction materials.
We prepare high-quality detailed reports and provide recommendations on solutions that meet your project goals, budget, and timeline. Our goal is to help you maintain buildings and structures that are safe and durable and provide recommendations to extend the service life of your structures.
Commercial Retail Chain Services
Menards, Target, Taco Bell, Scheels, Michaels, Hu Hut Mongolian Grill, Famous Dave's Barbeque, Payless Shoes: what do all these stores have in common? AET has supplied professional services on projects with these tenants and thousands more throughout the Upper Midwest.
AET provides geotechnical, pavement, environmental and construction materials testing services to several national chains. We excel at meeting the detailed requirements of big box retailers, including a focus on maintaining tight schedules, while reducing impacts to customers and daily business activities — by working with you to schedule field services during non-peak business hours or after hours when possible.
Of course, we also serve smaller regional and local businesses with the same attention to detail.
Whether you're remodeling, expanding, or have an existing problem with a building, bring our team on board. We can help with pre-construction planning and due diligence, site analysis, and existing building condition assessments. We'll review issues that could impact your construction schedule or budget, provide recommendations, and help you evaluate your options.
We look forward to serving the Bemidji area from our new location
AET Senior Petrographer, Chris Braaten, PG, CPG, presents an overview of potential impacts of various aggregate components on concrete…
Congratulations to Dave and Kate on their new C-Suite appointments…
Let's discuss how we can support your project