Air Emissions and Stack Testing
Air Emissions Compliance, Stack Testing, Air Monitoring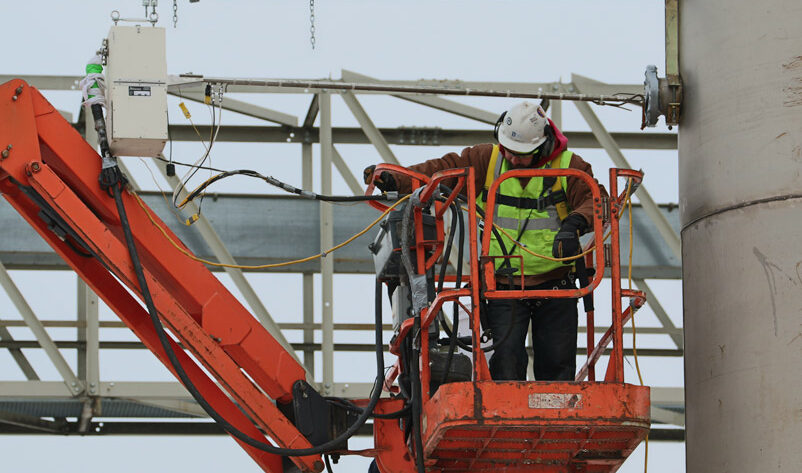 With the myriad of rules and requirements involved in the clean air act, it is easy to question your facility's specific requirements and needs. Understanding what conditions apply, how to demonstrate compliance, and how to maintain that standing all take time, effort and good judgement.
AET's experience in the air emissions testing industry allows us to share valuable knowledge about best practices and industry standards — to help keep your environmental program on track.
Through our countless interactions with regulators and emission source owners, we have built strong working relationships that foster understanding and real-world solutions to air emissions compliance issues. All of this is driven by our passion for the environment, improving public health, and protecting valuable natural resources.
Air emissions testing and compliance services
Stack testing
Ambient air monitoring
Control equipment and process optimization services
Air permitting support
Air compliance consulting for stationary sources.
Our clients include EHS staff and owners of ethanol plants, manufacturing facilities, chemical processing plants, as well as concrete and asphalt production facilities. With our offices located throughout the Midwest, our stack testing teams serve clients nationwide and internationally.
We provide thorough planning and clear instructions for owners, so work can be completed efficiently on each project and you can get back to business!
Our Air Emissions Compliance Team offers "big picture" solutions
AET's stack testing team is accredited for a variety of test methodologies through the American Association of Laboratory Accreditation (A2LA) under the ISO 17025:2017 standard. Our commitment to providing reliable data and service excellence to all our clients.
We see source testing as more than just a permit requirement! Effective source testing includes process optimization and energy reduction that can have a real impact on the bottom line.
Our state-of-the-art equipment provides real-time emissions data, allowing you to make decisions about process operations or better understand control equipment performance. We are driven to stay up to date with the most current test methods, approaches, and technologies available in the source testing arena.
Our experience with trouble-shooting control equipment and our knowledge of industrial processes makes it easy for you to take positive steps towards a more streamlined operation.
AET professionals bring decades of experience working with local, state, tribal, and federal agencies and their unique requirements and approaches for permit compliance. We strive to be transparent and accommodating — with both customers and regulators — to create amicable solutions to the complex scenarios we encounter. These interactions have built trust and a strong reputation as an industry leader.
We partner with you on the best approach to air compliance
Our client interactions are driven by a desire to understand and serve. Starting with clear communication and asking the right questions, our staff want to ensure that your needs are met.
Setting the scope and scheduling your stack test
We frequently conduct air permit reviews to delineate compliance requirements and provide ongoing support to ensure those requirements are met.
Once the scope of work has been clearly defined, work on a project can get started.
A comprehensive test plan is prepared and submitted to state or federal agencies in accordance with permit guidelines to formally schedule the test.
Stack Gas Analysis
Our mobile labs house all of our gas analyzers, calibration standards, sample equipment, and serve as a workspace for our field leads as data is collected. With the labs onsite and powered-up, the stack gas analysis can begin.
Frequently, state observers attend test events to audit the field activities and ensure work is performed following promulgated EPA or ASTM methodologies that are designed specifically for stack testing. As data is collected, we encourage ongoing communication between the test team and our client stakeholders.
Stop by our mobile lab and ask questions and our staff will share our data, experience, and knowledge with you for any situation!
Data Analysis and Reporting
The analysis of test data isn't always straightforward. We also aim to educate owners / operators and regulators on the testing process, so they have a better understanding of how our testing works, how results can be affected by operational or physical changes, and what the data means for them. When we provide data used in setting permitted limits for a new source, we work closely with regulators to make sure the needs of all parties are being met.
Once data collection and analysis are complete, multiple quality reviews take place and the final test report is generated for submission to your local regulator. 
AET offers a wide range of stack testing, air monitoring, and compliance services
Whether your facility is already subject to Clean Air Act rules, or you are in the process of determining applicability of New Source Performance Standards (NSPS), National Emissions Standards for Hazardous Air Pollutants (NESHAP), or other state and federal requirements, AET has you covered.
Air Permitting and Compliance
Air Permit Applicability
Air Emission Inventories
Permit Compliance Audits
Federal Data Reporting (CEDRI/CDX)
Registration and Title V Permit Applications
Section 114 Information Request Support
Ambient Air Monitoring
Dust (PM) Monitoring
Fenceline Monitoring for Criteria Pollutants
Indoor Air/Industrial Hygiene Sampling
Odor Monitoring
Noise Monitoring
Control Equipment and Process Optimization
Air Emissions Profiling
Combustion Tuning
Liquid/Gas Scrubber Optimization
Process Engineering Studies
Thermal Treatment System Optimization
Permit Compliance Monitoring
40 CFR Part 60, 61, 63, 70, 71 and 75 Performance Testing
Clean Air Act Compliance
Conditional and Other Test Methods
Criteria Pollutant Monitoring (PM, Ozone, CO, NOx, SO2, Lead)
Dioxins/Furans, HCl/HF, Metals
Emission Factor Generation
Enclosure Evaluation and Capture Efficiency
MACT Compliance
NESHAP Compliance
NSPS Compliance
Opacity Monitoring
PFAS Air Emissions Testing
Relative Accuracy Test Audits (RATA)
Title V Permit Compliance
VOC/HAP Destruction and Removal Efficiency
Contact an Environmental Professional
AET is part of team working to assess the current condition and determine the remaining service life of a landmark bridge. If you've driven
AET has installed an innovative and very cost-effective on-site stormwater infiltration system… If you visited the AET St. Paul office within the last six
Let's discuss how we can support your project