Construction Materials Testing
Trust AET for Construction Materials Testing, Special Inspections and Observations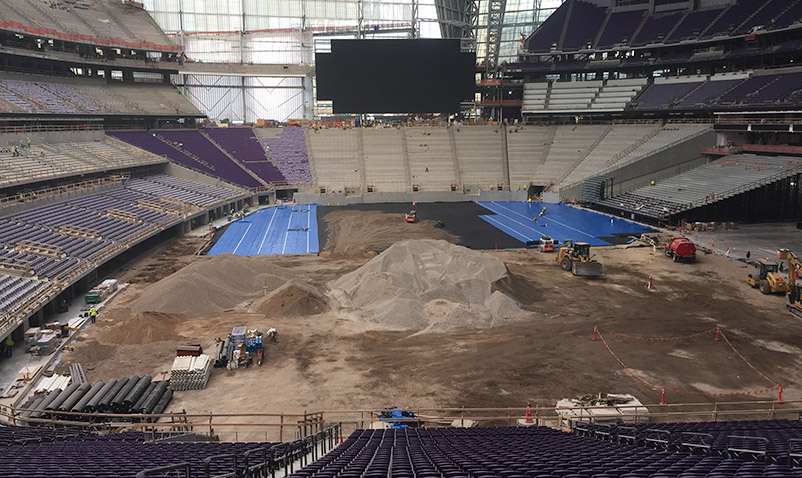 Construction materials testing (CMT) and special inspections (SI) are important activities in the construction of roadways, buildings, and other structures. These tests and inspections can reveal defects and quality issues in construction materials or workmanship.
From design to delivery of your construction project, American Engineering Testing (AET) is your trusted partner for construction material testing, special inspections, and quality assurance/quality control services.
Our highly trained technicians, engineers, and geologists assist with project specification conformance keeping your project safe, on schedule, and within budget.
AET labs are accredited by AASHTO Materials Reference Laboratory (AMRL) and the U.S. Army Corps of Engineers (USACE). Our staff is certified by AWS, ACI, ASNT, ICC, and NICET.
Construction materials testing and inspection with cost-effective solutions
Our experience across thousands of projects, combined with our diverse range of internal resources, mean that our construction services professionals are able to test, troubleshoot, and guide each client throughout all phases of their construction project.
Solving problems before they happen is a strength of AET. We work with owners, contractors, and engineers to provide practical solutions — resulting in well-built projects that function as intended for the end users.
AET helps you reduce risk and we put our reputation on the line every day with each project's result.
Construction Materials Testing Overview
Aggregate Testing
Sieve analysis
Deleterious materials (Mn/DOT and ASTM)
Specific gravity and absorption
Abrasion – Los Angeles Rattler
Soundness
Unit weight
Insoluble residue
Crushing
Asphalt Testing
Extraction/gradation analysis
Marshall properties
Rice specific gravity
Field process control testing
Thickness and in-place density by core removal
Mix design and verification
Concrete Testing
Plastic concrete testing (including slump, air, spread, unit weight, and temperature)
Aggregate gradations (both coarse and fine aggregates)
Casting test specimens for unit weight and strength testing (both compressive and flexural)
Concrete shrinkage testing
Mix design and verification
Soil Testing
Nuclear and sand cone
Moisture/density
Moisture/density/relation of soil (Proctor)
Sieve analysis
Topsoil analysis
Monitoring of engineered fill placement
International Building Code (IBC) Chapter 17 Special Inspections
Compressive strength testing of hardened concrete
Deep foundation testing (rammed aggregate piers, driven pile, helical pile, auger cast pile, drilled piers/caissons, and rigid inclusions)
Double ring infiltrometer testing
Excavation observations
Fireproofing and fire stopping inspections
Floor flatness testing
Masonry observations and product testing
Micropile testing
Moisture migration monitoring
Post tensioned reinforcing inspection and testing
Reinforced concrete observation
Sound monitoring
Stormwater conditions
Structural steel inspections including bolted and welded connections
Vibration monitoring
In addition to the basic Special Inspections we can provide:
EIFS Inspections
Wood construction
Subgrade proof rolling
Anchor bolt tensioning
Tie back and retention system observations and testing 
Construction observation for project specification conformance
Whether you need observations of soil excavations, reinforcing steel, concrete, masonry placement, or structural steel placement and their connections, AET is the firm to assist you in project specification conformance throughout the design and construction phases of your project.
We can provide experienced engineers and technicians to help with most construction-related testing/inspections activities. We strive to mobilize staff within a 1-2 days' notice.
AET also offers in-house independent laboratory expertise in chemistry, petrography, asphalt, soils, and cement/concrete to support your projects.
Efficient Data Reporting
AET teams across the company use cloud-based systems to prepare, review, and manage data from our construction tests and observations and electronically distribute clear and concise reports to our clients.
These systems include "Spectra QEST", a Laboratory Information Management System, and the "Construction Hive", which provides a platform for field and lab technicians to enter test data and observations at the site, along with supporting documents and photos, and then upload them to secure cloud storage. Use of these two systems increase efficiency and help maintain quality and consistency in data reporting across all AET offices.
Contact a Construction Services Professional
Construction Services Projects
AET Senior Petrographer, Chris Braaten, PG, CPG, presents an overview of potential impacts of various aggregate components on concrete…
We welcome our new AET team members in Bismarck, Fargo, and Grand Forks, North Dakota;  St Paul, Minnesota; and Rapid City, South Dakota!
Let's discuss how we can support your project