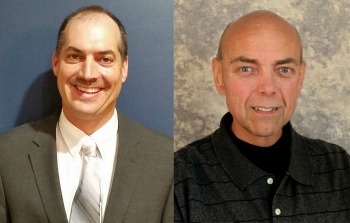 Two AET Wisconsin managers, Paul Michlig and Joel Guanella, have earned their Tier 2 Concrete Slab Moisture Testing Technician – Grade 1 certification. Being able to provide more consistent, accurate, and reliable results allows them to help flooring manufacturers, architects, engineers and contractors to make better informed decisions as to when their concrete floor is ready for a floor covering installation. They join a small unique group in Wisconsin of Concrete Slab Moisture Testing Technicians certified by the International Concrete Repair Institute (ICRI).
Flooring problems on concrete slabs increased in frequency in the early 2000's with installers switching from oil-based to water-based adhesives. Improved standards for moisture testing of concrete slabs and ICRI's certification process has helped address these issues. In our experience, a key to successful flooring projects is to have several test methods in your repertoire with the experience to know which is most appropriate for the project at hand.
With over 60 years of experience combined,Michlig and Guanella help their clients understand which tests are appropriate for their concrete floors and how to avoid problems AET has encountered on past projects. They have a long standing service history across Wisconsin, having managed and worked on many major construction testing projects including commercial, government, medical, and industrial facilities.
Michlig and Guanella are certified for the following American Society for Testing and Materials (ASTM) tests: Preparing Concrete Floors to Receive Resilient Flooring (ASTM F710), Measuring Moisture Vapor Emission Rate of Concrete Subfloor Using Anhydrous Calcium Chloride (ASTM F1869), Determining Relative Humidity in Concrete Floor Slabs Using in Situ Probes (ASTM F2170), and Preliminary Evaluation of Comparative Moisture Condition of Concrete, Gypsum Cement, and Other Floor Slabs and Screeds Using a Non-Destructive Electronic Moisture Meter (ASTM F2659). More information on these tests can be found on ASTM's website.
Mr. Michlig is available for contact at pmichlig@amengtest.com and Mr. Guanella is available for contact at jguanella@amengtest.com.