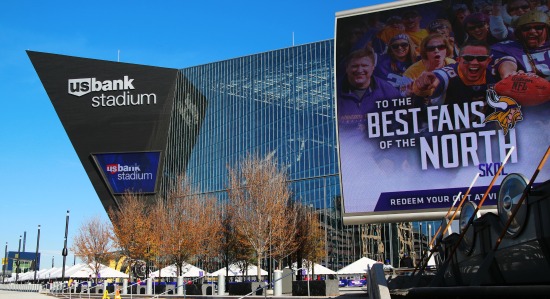 Not all winning occurs on the playing field; but the construction of U.S. Bank Stadium is a win for the design and construction teams. Facing tight schedules and design challenges, the U.S. Bank Stadium project is a prime example of the creativity and practical knowledge our Geotechnical Services team brings to projects.
The two of the biggest challenges for AET's geotechnical team were extremely large axial and thrust loads from the single roof truss system and potentially large lateral earth loads on deep, below grade retaining walls. Based upon their past experience and knowledge of the site conditions, our geotechnical team developed cost effective and unique approaches for both situations:
Capitalizing on the site bedrock conditions, our geotechnical engineers analyzed and provided innovative buttress foundation recommendations to support the roof truss thrust loads. They modeled the foundation system using the Fast Langrangian Analysis of Continua (FLAC®) finite difference computer program, and our field personnel verified rock competency during excavation, providing confidence that the vertical and horizontal displacement would be within required tolerances.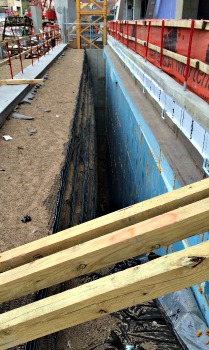 Working with the client to maintain costs and decrease environmental impacts, our geotechnical engineers studied lightweight fill and other alternatives to reduce lateral load on the deep, below grade retaining walls. Instead of the traditional backfill methods, our creative engineers presented the option of constructing a self-retained backfill system using geotextile-wrapped sand layers. Implementation resulted in no lateral load on the wall. Through the use of this unique system, the amount of concrete and steel required for the wall and foundation was greatly reduced, helping reduce cost and the environmental impact of the project.
Through the teamwork of the many engineering and construction firms and the guidance from the stadium leadership team, U.S. Bank Stadium was completed ahead of schedule, opening in July 2016. It will play host for many upcoming events, placing the Twin Cities and Minnesota on the national and international stage.
This project was awarded a Grand Award from ACEC/MN and received a National Recognition Award from ACEC National. For more information regarding our Geotechnical Services, please contact Gregory Reuter, PE, and visit their services page.