Kolten Espinosa, a third-year civil engineering student at Minnesota State University, Mankato, became the first recipient of the Terry Swor Scholarship.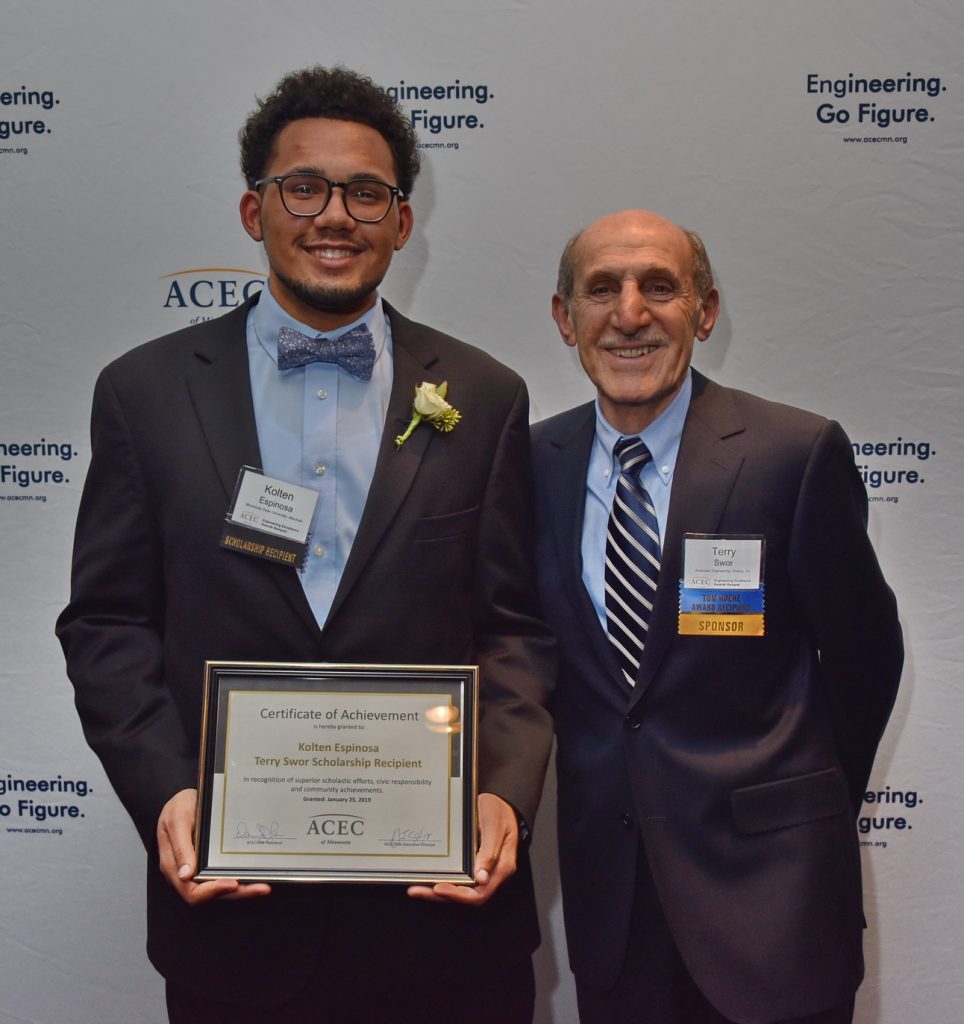 Kolten Espinosa (left) with the Terry Swor, Founder of AET, at the ACEC of Minnesota's Engineering Excellence Awards Banquet.
Following the 2018 retirement of Terry Swor, a former chairman and founder of AET and the recipient of several leadership awards from ACEC of Minnesota, the firm sought to honor his tremendous contributions by funding an ACEC/MN scholarship in his name.
In January, Kolten Espinosa, a third-year civil engineering student at Minnesota State University, Mankato, became the Terry Swor Scholarship's first recipient.
"Receiving this scholarship has definitely been a blessing for me," Kolten said. "It removes a lot of the financial stress and allows me to freely participate in more student events, like Concrete Canoe. "I am grateful for the support and plan to represent AET with pride," he added.
The Terry Swor Scholarship recognizes students who have acomplished consistent academic performance while dealing with economic or family challenges that complicate their college life and experiences. The award also focuses on students who contribute to the benefit of others, such as those who participate in tutoring or community service, while pursuing a career in the geological, environmental, geotechnical, materials sciences, and engineering fields.
Terry said he hopes the scholarship will lessen the need for strong students to get a job simply to pay tuition. "As a college student, I worked several part-time jobs to put myself through school and, as a result, had little time to get involved with collegiate life," Terry explained. "I hope the scholarship can help deserving students like Kolten feel less pressure, knowing much of their tuition costs are covered."
Terry also noted he was fortunate to meet Kolten's father, and was very impressed with the family's emphasis on education and making the world a better place.
As for Concrete Canoe, an engineering competition during which students build and race concrete canoes, Kolten said he and his team will compete against nine other schools in Iowa. We wish them all the best!
For more information about ACEC/MN scholarships, including application and recommendation forms, please visit www. acecmn.org/scholarships .