Instrumentation and Monitoring
Geotechnical Instrumentation Programs - Installation and Monitoring Services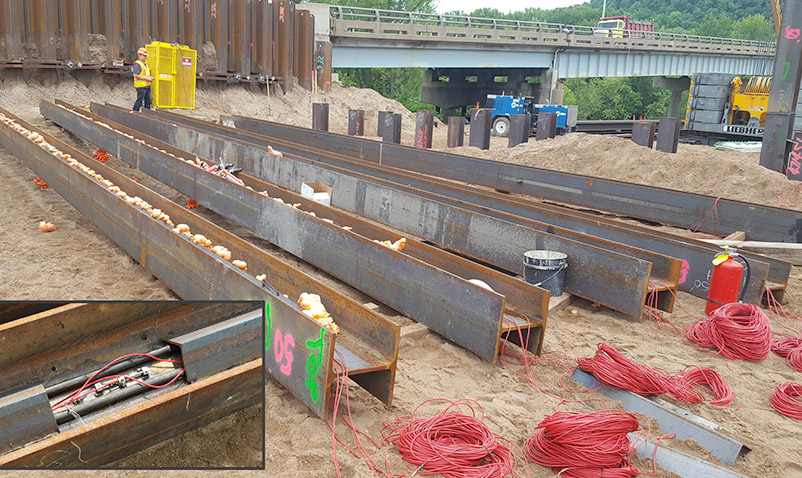 If movements of soil or structures are a concern for your project site, AET can design an instrumentation program to monitor and measure changes and evaluate the data — helping you make informed decisions that reduce risk.
Our geotechnical expertise allows us to select a combination of sensors and data acquisition equipment for detecting, monitoring, and gathering data on critical soil and bedrock parameters, movement of earth and structures, and earthborne vibrations – whether impacting your project site or neighboring structures.
We design and manage geotechnical instrumentation programs
Whether you need simple measurements or require automated monitoring, our engineers will work with you to develop systems that provide the best approach for your project's conditions and budget.
We have designed and completed monitoring programs for small projects, as well as complex instrumentation programs with hundreds of sensors and real-time monitoring with web-accessible plots of the data.
We partner with clients to answer their specific questions
For one client we investigated whether cracks in pavement were due to slope movement by installing a single inclinometer, monitored manually every few months. On another project we studied whether a column-supported roadway embankment would meet the allowed settlement tolerance in the years after construction. In both cases, AET recognized the issues and designed a monitoring program to answer a specific question or set of questions.
AET has provided geotechnical instrumentation services for numerous projects throughout Minnesota and the Upper Midwest. Many of them required sophisticated sensors and datalogging equipment to monitor embankment and foundation performance during, and after, construction, and also to assess the risk of damage to adjacent facilities from construction activities.
Instrumentation and monitoring ensures quick response to changing conditions
AET engineers take the time and do the research — we understand the benefits and limitations of different sensors and equipment. We stay current and knowledgeable and use well-trained personnel for our structural condition monitoring and geotechnical instrumentation projects.
We also understand the challenges of proper instrumentation installation, especially on active construction sites, and the need to protect sensitive instruments. AET takes care when installing geotechnical monitoring equipment to improve sensor survivability and obtain accurate readings.
Depending on stakeholder needs and project requirements, AET monitors sensors with data acquisition techniques ranging from handheld readout equipment to automated, real-time data acquisition with cell-modem communications for remote monitoring. Our monitoring systems are designed to permit rapid evaluation of data, so your team can quickly respond and address problems as they emerge.
AET offers a wide range of instrumentation services
We design, install, operate, monitor, and analyze data from a variety of geotechnical instrumentation and monitoring equipment.
Accelerometers 
Earth pressure cells
Extensometers
Inclinometers
Load Cells
Linear Variable Differential Transducers (LVDT)
Piezometers
Seismographs (or vibration monitors)
Settlement cells
Settlement plates
ShapeAccelArray™ sensors (SAA)
Soil Thermocouples
Strain gages
Strainmeters (or "sister bar" strain gages)
Tiltmeters
AET regularly installs vibrating wire, electrical resistance, MEMS and accelerometer-type sensors, such as ShapeAccelArray™ sensors (SAA). For example, AET often employs a mix of sensor types with automated real-time monitoring during static load tests of piles or other deep-foundations.
For projects requiring sensor installation in boreholes, AET's in-house geotechnical drilling services provide a significant advantage for our clients. Our drillers are experienced with special drilling or borehole grouting needs to properly install borehole sensors.
Contact a Geotechnical Professional
AET Senior Petrographer, Chris Braaten, PG, CPG, presents an overview of potential impacts of various aggregate components on concrete…
We welcome our new AET team members in Bismarck, Fargo, and Grand Forks, North Dakota;  St Paul, Minnesota; and Rapid City, South Dakota!
Let's discuss how we can support your project