Geotechnical Drilling Services
Geotechnical Drilling Services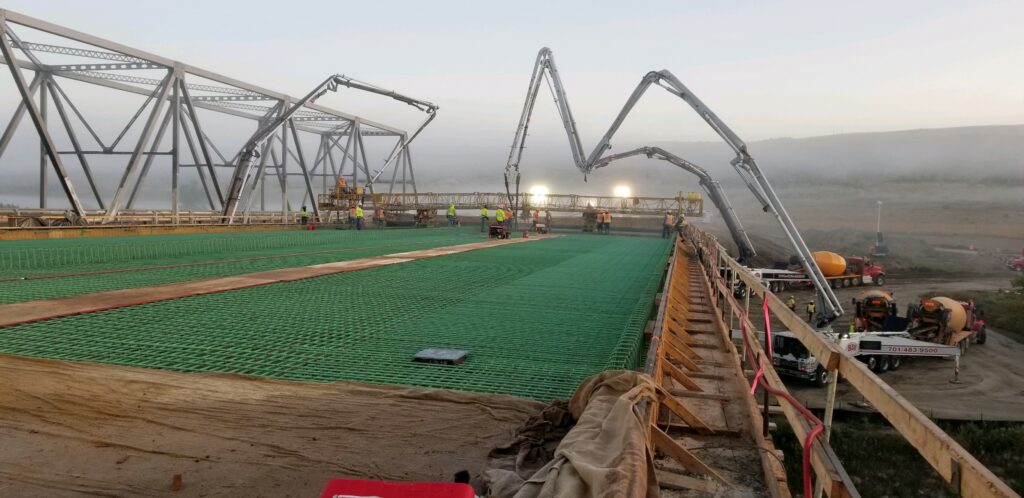 Standing on a parcel of land or driving down a road, it's hard to know what lies below the surface – solid ground or difficult conditions that will affect your project.
Our geotechnical professionals reduce that uncertainty by conducting subsurface investigation of soil, bedrock, and groundwater conditions on your site.
AET offers a full range of geotechnical drilling services, supported by state-of-the-art field and laboratory testing capabilities, and engineering consultation. By maintaining our own fleet of drilling rigs, we also have full control over both the schedule and the quality of our work.
Let AET be your local drilling choice in the Upper Midwest
AET has been performing drilling services for over 50 years and has experienced a wide range of site conditions, soil and rock types, and groundwater conditions. As a result, we have extensive knowledge of subsurface conditions in each of the regions where we work. Our local experience and knowledge can help in determining the number of borings required for your project, saving you time and money.
While conventional borings are the norm for most smaller projects, collecting more detailed subsurface information on complex projects gives engineers the data they need to refine design recommendations. This can result in a less expensive foundation system.
On the other hand, running into unexpected subsurface conditions can result in the need for more expensive approaches! Our geotechnical professionals can advise you on your options and help you assess the time and expense involved in moving forward with a proposed project.
Our geotechnical drilling team has worked with many clients, including engineers and architects, contractors, owner's agents and government project managers — throughout the planning and design process. We have contributed to the construction of different types of projects, including hospitals, schools, commercial buildings, stadiums, roadways, runways, bridges, transit lines, oil and gas platforms, wind and solar farms, and many infrastructure projects.
Our geotechnical engineers, geologists, and technicians partner with your design team, providing the accurate data and thoughtful recommendations needed for site selection, appropriate foundation design, and solutions to difficult subsurface conditions.
AET is equipped to meet your project drilling requirements
To match the correct drilling rig with site access and client needs, AET owns and operates a variety of equipment. These include truck-mounted drilling rigs of varying sizes, all-terrain-mounted drilling rigs (both rubber-tired and tracked) for access on difficult sites, direct-push sampling equipment, and both electric and diesel powered portable drilling rigs for working in tight spaces and areas with low head-room. AET even drills from barges and other amphibious vehicles to reach boring locations along bridges and dams.
We evaluate soils and sediments using conventional hollow-stem auger drilling, as well as solid-stem auger drilling and mud-rotary drilling. AET is also equipped for rock coring to evaluate the strength and integrity of bedrock.
After conducting the subsurface investigation, the resulting logs, laboratory or in-situ test results, and geotechnical reports will provide your team with foundation and structural design data and recommendations.
Geotechnical testing for subsurface investigations
AET drilling services include a wide range of services and in-situ tests, including:
Soil borings
Rock coring
Standard Penetration Testing (SPT) and Thin-wall Tube Sampling
Flight auger sampling
GeoProbe® direct-push sampling
Cone Penetration Testing (CPTu)

Dissipation Testing
Shear Wave Velocity Testing (Seismic CPTu)

Field Vane Shear Testing
Pressuremeter Testing
Geotechnical Instrumentation
With the following tests, AET can provide even more detailed explorations for site engineering analyses
Field seismic refraction (ReMi)
Ground Penetrating Radar (GPR)
Falling Weight Deflectometer (FWD)
Field electrical resistivity testing
Drone surveys
Contact a Geotechnical Services Professional
Geotechnical Services Projects
AET Senior Petrographer, Chris Braaten, PG, CPG, presents an overview of potential impacts of various aggregate components on concrete…
We welcome our new AET team members in Bismarck, Fargo, and Grand Forks, North Dakota;  St Paul, Minnesota; and Rapid City, South Dakota!
Congratulations to Dave and Kate on their new C-Suite appointments…
Let's discuss how we can support your project