Deep Foundations and Piling
Deep Foundations Geotechnical Engineering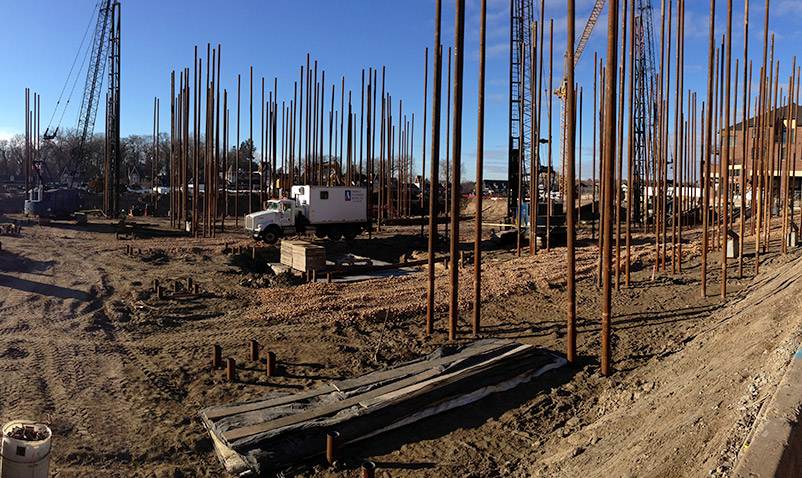 From Mississippi River bridges and skyscrapers, to power plants and sports stadiums, to large water tanks and grain bins, AET's geotechnical engineers have worked on thousands of challenging projects requiring deep foundations throughout the Upper Midwest.
Sophisticated field exploration techniques such as seismic piezocone and pressuremeter testing give our geotechnical engineers advanced tools to present thorough foundation recommendations.
Driven piles and drilled shafts
Our engineers are experienced in the design of driven piles and drilled shafts, as well as more cutting-edge deep foundation alternatives. In addition to calculating static load capacity, we work with the structural engineer to evaluate lateral deflections, group effects, and settlement. We regularly perform wave equation analyses to evaluate pile drivability.
Pile foundation testing services
During pile installation, we have Pile Driving Analyzer® (PDA) equipment to evaluate pile load capacity and develop pile driving guidelines. Our engineers who provide high strain dynamic pile foundation testing services are certified by PDCA/PDI.
AET is a trusted partner for deep foundation services 
You can rely on AET for full-service geotechnical consulting, testing, monitoring, and reporting for your private or public projects.
Our services include:
High Strain Dynamic Pile Testing (HSDPT)
Wave equation and signal matching analyses
Static load testing
Lateral pile deflection analysis
Settlement evaluation
Site investigation using seismic piezocone testing (SCPTu) and soil borings/rock coring
Contact a Geotechnical Professional
AET Senior Petrographer, Chris Braaten, PG, CPG, presents an overview of potential impacts of various aggregate components on concrete…
We welcome our new AET team members in Bismarck, Fargo, and Grand Forks, North Dakota;  St Paul, Minnesota; and Rapid City, South Dakota!
Let's discuss how we can support your project