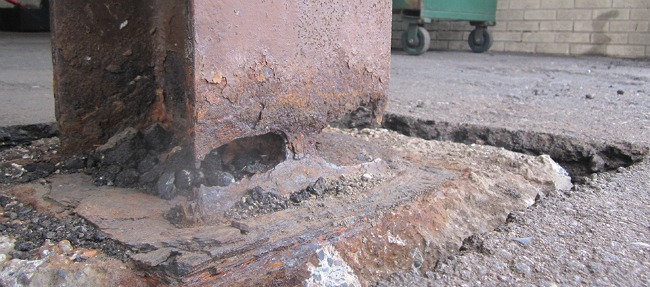 You are shopping around for a new facility for your business. You find what seems to be the perfect space. It's 40 years old, but it appears to be in mint condition and even boasts the right floor plan to effectively run your operation. Everything checks out on the environmental site assessment, so you're eager to sign on the dotted line. But have you thought about a property condition assessment?
A property condition assessment, or PCA, is a review of the condition of a commercial facility to identify physical deficiencies, typically performed in accordance with an ASTM procedure. Generally speaking, a PCA includes four parts: 1) a review of existing documents (drawings, past PCA reports, building inspection files, etc.), 2) an interview of maintenance staff, 3) a walk-through, and 4) cost opinions for remediating deficiencies.
PCAs look at major components of building and site improvements, which may include structural, HVAC, plumbing, and electrical systems; exterior roof and walls; and fire protection and detection systems, to name a few. Site drainage, pavement and walks, lighting, and landscaping elements are also included.
The report generated by a PCA gives end users a synopsis of issues of concern and in need of further review/consideration by the potential purchaser. Needless to say, PCAs are critical for purchasers, lenders, and even lessees. Here are five reasons for conducting one:
1. Prevent costly surprises
No one wants to inherit a building that is rife with problems. Conducting a PCA prior to the purchase gives you a better understanding of the types of major repairs you can expect, as well as an estimated price tag for each.
2. Create leverage for renegotiating the purchase price
You can't truly know a building's condition without a PCA. Much like how a homebuyer relies on a home inspection, the findings of a PCA performed by an independent engineering firm provides a tool for establishing a realistic acquisition cost.
3. Protect the bank's interest
Lenders don't like surprises, either. Repair costs for major building components can easily put a loan under water. For this reason, banks often require a PCA as part of the loan agreement.
4. Drive capital planning
A PCA is also a valuable capital-planning tool. That's because a PCA identifies the current condition of a building's components, and if requested as part of the work scope, can provide estimated timeframes and costs for when each should be repaired and/or replaced.
5. Baseline for a pre- or post-lease review
Many leases require the lessee to "return" the space to its original condition. But this baseline is likely to be a shot in the dark without a PCA. This is especially important when entering leases that require you to be responsible for building repairs and maintenance. As an independent evaluation of the building's condition, a PCA can prevent your landlord from faulting you for existing deficiencies.
Final Thoughts
Whether you're buying a building, providing a loan, or leasing, a PCA is a valuable tool when seeking to understand the true condition of a facility. With an independent PCA, you will have the proper knowledge to protect your interests.
Read more from our building forensics team here!
Learn about our Building Technology and Forensic Engineering services.