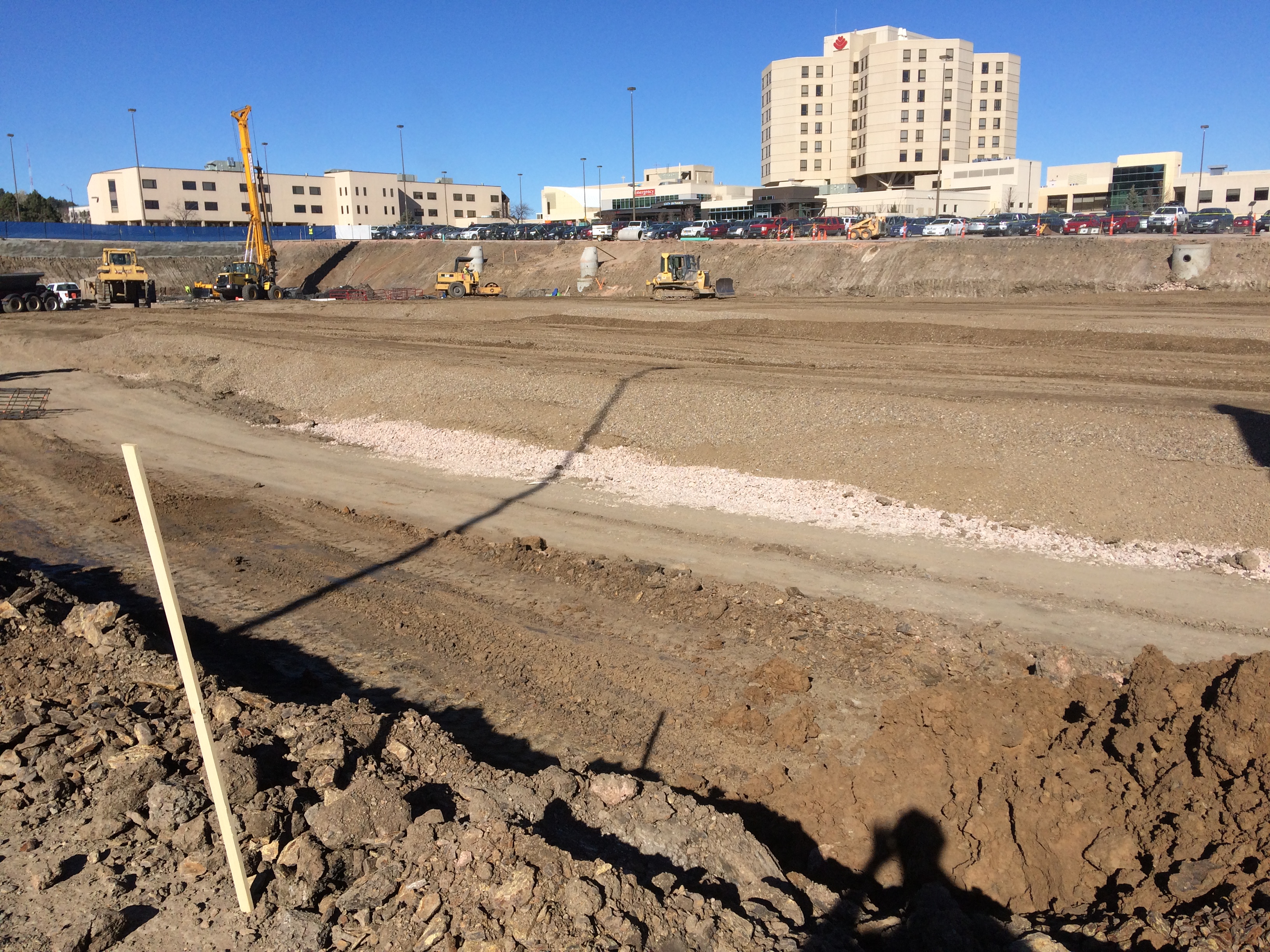 Photo taken in the fall of 2016 shows subgrade stabilization rock and engineered fill for a new three-tiered parking structure at Rapid City Regional Hospital. Photo credit: Construction Management Department, Regional Health
Since its official opening in 1973, Rapid City Regional Hospital has grown into western South Dakota's leading medical center. The hospital offers a full range of health care services and, as of 2012, boasted 329 inpatient beds. But with the region's population on the rise, the hospital realized a need to broaden its capacity and service offering. These critical needs resulted in an aggressive expansion project—currently in Phase II—that includes a new hospital building for specialty services, a covered, attached parking structure, and renovations to many of its existing facilities.
The AET Rapid City team has been involved in the project since providing preliminary geotechnical exploration services in January 2016. Currently, we are providing materials testing services as construction progresses.
AET is working directly for Regional Health alongside the design and construction team consisting primarily of Structural Design Group, ESa Architects, Heavy Constructors, and Layton Construction. Construction began on the parking structure in October 2016, and on the Central Utility Plant addition in January 2017. However, progress has not been without its challenges due to winter weather.
Winter weather hasn't been the only hurdle we've encountered with this project. In the fall, the contractor came across soft, wet subgrade soils that were unable to support the drilled pier rig and associated operations that needed to be staged around excavated areas. They quickly requested AET's assistance to provide recommendations to remedy the situation. Based on our recommendations, the contractor team added a combination of clean rock and engineered fill to the subgrade soils. This provided a stable base for the rig, and operations carried on as planned.
It's safe to say everyone on the project is hoping Mother Nature cooperates as we move into spring. For now, we are pushing ahead, and excited to be a part of a new chapter at Rapid City Regional Hospital.
Kristen Yates, PE, is the manager of AET's Rapid City office. She can be reached at kyates@amengtest.com.