With crisp fall weather around the corner, many of us look forward to spending time outdoors. In fact, fall is my favorite time to go hiking or walking on wooded trails. It's a time when you can see where the animal trails are, marvel at the changing colors of the leaves of deciduous forest types, and often notice birds and waterfowl getting ready to migrate to warmer climates.
Regardless of the activity you're planning, it's important to plan for safety, too. Safety is something we think about every day on the job site, but it can be easily taken for granted off the clock. Failing to practice proper safety, however, can be dangerous, even if you're partaking in a relatively "tame" activity close to home. So, to help you stay safe outdoors this fall, I've compiled the following safety tips:
If you're out in the woods beating brush on a trail, be sure to keep safety glasses on at all times. Without eye protection, you risk getting a twig, branch or other debris in your eyes.
Gloves can help in a number of ways. For instance, if you're gathering wood, gloves can help keep your hands from getting scrapped, cut, bruised or impaled, not to mention nice and warm.
Layered clothing works well because of temperature changes. Although cold weather comes as no surprise, many of us are not prepared. If a front moves in, a nice sunny day can become cool and cloudy almost instantaneously. Temperatures can drop, leaving you susceptible to hypothermia. Consider wearing layers of light, warm clothing, mittens, a hat, a scarf and waterproof boots.
When hiking distances, always carry an emergency (first-aid) kit with you. You never know what could happen! My emergency kit is always in my backpack and includes waterproof matches, a small container of ibuprofen, a space blanket, band-aids and gauze, 30 inches of string, a small knife, a compass, a few bouillon cubes, and a handful of other items.
Avoid traveling alone; invite a friend to come along. Above all, tell someone where you are going, especially if you will be in a remote area. Having a cell phone handy for assistance with GPS or emergencies is never a bad idea, either.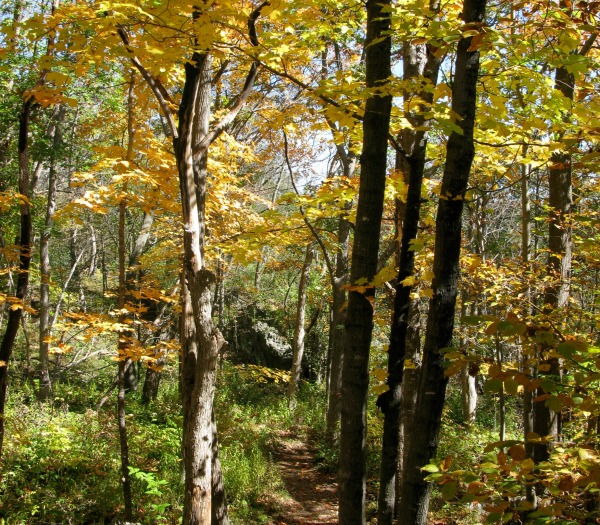 There are certainly other common-sense safety tips, but these are a good start for a safe—and comfortable—day in the outdoors this fall. And whatever you do, don't forget your camera!
Joe Tongson, MEHS, is AET's corporate manager for health, safety and compliance. He can be reached at jtongson@amengtest.com.