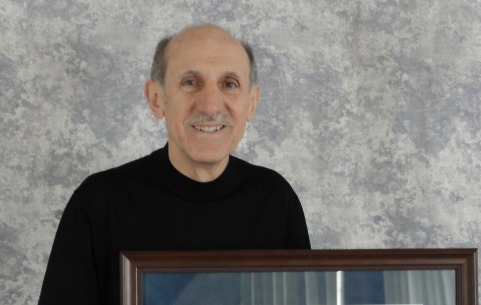 Terry Swor, PG, is our esteemed chairman/principal and one of AET's founders. On November 28th, 2017 AET officially announced Terry's upcoming retirement (effective January 2, 2018). "AET would like to recognize and thank Terry for his extraordinary leadership and uncompromising drive to create a quality organization during his tenure," says CEO Daniel Larson, PE. "All of us in this industry owe Terry much appreciation and gratitude for his commitment to improving the engineering, architecture and construction market, and the communities where we work and live."
As he looks ahead to retirement, we thought it wise to reflect on the experiences and life lessons he has learned throughout his 53-year career.
What shaped your life and, in retrospect, how did it impact your perspective and motivation?
TS: When I was growing up, my parents always said to me, "Life is all about the lessons you learn, some the hard way and some more easily. What you learn or don't learn from these will shape your life either positively or negatively."
My parents were sending me a message about change—anticipating change, preparing for change, and accommodating change. Their pearls of wisdom included "Change is a constant. To take advantage of it, you must be proactive so you'll be ready when it happens. If change treats you badly, pick yourself up and do what's necessary to change your situation." Of course, this could apply to one's personal and business endeavors, as well as one's health.
I have experienced plenty of change and some tough life lessons in my 53 years in the A/E/C industry, and I don't expect—or wish—these types of experiences to end as I transition into a "retired" status. In retrospect, they have made for an interesting, exciting, rewarding, and gratifying career.
What was a hard life lesson?
TS: Before we founded AET, the other three founders and I held principal positions at a leading engineering and testing firm. To make a long story short, the firm's owners secretly sold to a foreign corporation. The foreign owners, being unfamiliar with the business model and clientele, drove their newly acquired firm into the ground shortly thereafter. This change precipitated the startup of some 85 other firms, including AET.
Although this was an "in-your-face" change, I recognized the positives of my situation. My years on the job had yielded specialized skills, contacts and knowledge regarding the industry—all of which motivated me to draft and implement AET's business plan. The success of the plan was bolstered by convincing Donovan Stormoe,* Richard Stehly,* and Robert Krogsgaard to join the effort. Together, we had a combined total of more than 100 years of knowledge and experience in the marketplace. Focusing on the positive, we redirected our collective energy toward launching AET.
What was your vision for AET?
TS: The basic keys to success for any professional services firm are to attract talented staff and incentivize them to serve clients well. So that's where we started. Our business model also included provisions for the perpetuation and succession of the firm, as well as for avoiding the turmoil we had experienced with an unwanted acquisition. Simply stated, we envisioned our staff contributing to the success of our clients. When our clients prospered, we would prosper—a true partner relationship.
We felt strongly that shared success needed to be a tenet of our culture as well. Our business model highlighted an ESOP program that would increase the net worth of both the firm and our staff. Our culture was also built to accommodate a collaborative environment, which we knew was critical for both the firm's growth and the development of future technical and business leaders. As we grew, we tweaked our business model to include multiple career paths designed to facilitate the success of our staff, and we strategically sought opportunities to expand our service lines and physical presence throughout the region.
Looking back, what gives you the most pride?
TS: As a founder, I am proud to say AET is celebrating its 28th year as an ESOP. That's quite remarkable! I am also proud that our structure promotes the perpetuation of the firm as well as the individual growth of our staff. Dealing with change by strategically planning for it and setting goals around it has helped to give AET an international clientele with projects in many countries. The opportunity for new experiences for both our firm and staff is greater than ever.
As a result of our strategic planning and commitment to the future, AET has a strong management team in place. I have great faith that our leadership will continue its focus on the following:
Broadening our service lines to position AET as a one-stop provider for our trusted business partners
Developing expertise in highly specialized fields at local, national and international levels
Thoughtfully expanding our geographical presence to better serve clients and provide new opportunities for staff growth
Maintaining our ability to handle significant projects, regardless of location and size
What will you miss most?
TS: Someone once said life is a long ride to be enjoyed to the fullest. I will greatly miss the joy of meeting and working with so many talented clients and business partners. Many of these relationships have turned into lifelong friendships. As with any relationship, the more you put in, the more you get back. I've found this to be especially true within the many technical and business organizations in which I still participate.
I have always thought of myself as having a high level of energy with a can-do attitude. With that said, I will certainly miss the challenges of problem solving and the fun of collaborating with clients and staff. I am certainly not surprised that these two activities are the linchpins of AET's success. Another life lesson, perhaps?
Final thoughts?
TS: I find it interesting that AET bridges so many generations, especially as a member of the traditionalist or silent generation! With the rapidity of technological change and an ever-expanding global marketplace, the challenge for our leaders going forward is to provide an environment where all generations, genders and ethnicities are welcomed and are afforded the opportunity to be successful. Clearly, AET's challenge for continued growth is dependent upon future generations feeling comfortable enough to achieve their goals within our organization.
As long as we keep pushing ahead, the changes—and lessons—will keep coming. As I mentioned earlier, I'm eager to continue expanding my perspective in this next phase of my life. If you are looking for enlightening experiences, opportunities for personal growth and wonderful challenges, AET is the forward-moving place for you.
*Donovan and Richard both, unfortunately, passed away at age 59.
To learn more about AET please visit our Firm History page.
Media Inquires
Christine Wiegert, Marketing Director
cwiegert@amengtest.com
(800) 972-6364