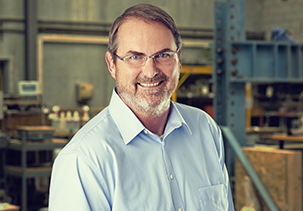 AET has promoted Robert (Bob) Elliott to Chief Operating Officer (COO) of the longstanding engineering consulting firm, effective January 2, 2018. The announcement came during a corporate meeting where leaders shared a revised organizational structure to support the firm's growth plans.
As COO of AET, Bob will be responsible for improving the efficiencies of the operational units and continue his focus on process improvement. He will be building on the strengths of the 400 employee-owned firm and overseeing growth and expansion of our 20 regional offices. "Bob is an experienced and trusted leader who consistently delivers results. I am confident in Bob's ability to align AET's resources with industry-leading operational practices to drive growth," said Dave Rettner, president.
With over 35 years of experience in the environmental industry and over 20 years at AET, Bob has been around the business of engineering consulting long enough to see the many growth opportunities that exist, both in the wider industry and from an operational standpoint. As Vice President and manager of AET's Environmental Technical Services, Bob has been responsible for the management and growth of the extensive line of environmental technical services, including soil and groundwater sampling, air emissions testing and ambient air modeling. He is responsible for the development of AET's "mobile workforce", serving clients located outside of the firm's traditional geographic service areas.
Operational efficiency and functionality are twin passions of Bob's. There is a painting in his office, in full view of any visitor who stops in, of a partially filled glass of water. Bob likes to ask his visitors what they see when they look at the glass. "Answers of half empty or half full are typical," says Bob. "I don't see that. I see it as the glass is not the right fit for what is inside." This concept of "finding the right fit" is something Bob will bring to the team as COO. He is not interested in what works for other companies of similar size, but instead focuses on what is the right fit for current and future operations.
Bob's commitment to the operational process has been evident throughout his career and he has brought tangible changes to the field by utilizing his knowledge of engineering and business operations to streamline internal processes. He continually strives to improve operational procedures, focusing on solutions that serve the whole group. "I have experienced many different forms of operational management in my career," comments Bob. "The difference with AET is that every day I see the faces of the employee-owners. I get the chance to talk with those who hold a financial stake in our success and can brainstorm new ways build on our efficient procedures. At the end of it all, we are all accountable to the employees."