Despite the Vikings' heart-wrenching loss in the NFC playoffs, the team's new stadium remains the talk of the town in Minneapolis. Yet it's not alone in the spotlight. Just west of the stadium is a 12.5-acre, five-block development known as Downtown East that will bring a much-needed spark to a historically quiet neighborhood.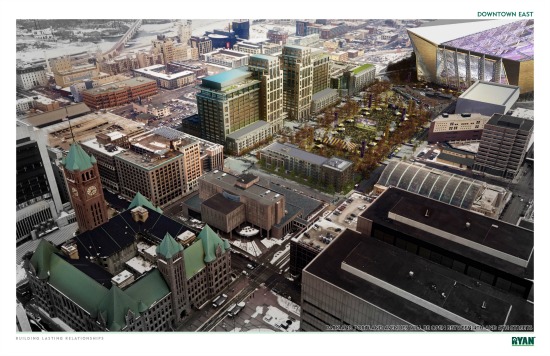 A rendering (courtesy of Ryan Companies) shows how the Downtown East development (high rises and park adjacent to the stadium) will look when completed in Fall 2016.
Provisions for Downtown East were included in the $1 billion stadium investment made by the City of Minneapolis, State of Minnesota, and Minnesota Vikings. The development, which broke ground in 2014, includes two 17-story Wells Fargo office buildings, one four-story office building, one seven-story Minnesota Sports Facility Authority (MSFA) parking ramp, three five- to six-story residential buildings, a two-block city park called Downtown East Commons, and a Radisson Red hotel.
The shiny new high rises are a big change from the low-profile structures and on-grade parking lots that previously called the site home. Although these older structures were demolished in preparation for Downtown East, they were not quickly forgotten. Many were underlain by urban fill (i.e., brick, debris, sand and black soil) from buildings that had been demolished decades ago.
These materials, of course, had to be excavated before the new project could be built—and that's where AET's involvement on the project began. Starting in 2013, we drilled borings and observed test pits, based on diagrams we plotted from old city maps, to determine where the previous structures had been located. And since excavations were conducted in an urban area, disposing and reusing the fill presented many environmental challenges. We worked with Liesch Associates, the project's environmental consultant, to navigate this aspect of the work.
Throughout the project, we also provided construction materials testing and special inspections for the developer and general contractor, Ryan Companies, and the structural engineers-of-record, Ericksen Roed & Associates and BKBM. The project architect was RSP Architects. We have also worked alongside Veit for excavation, Carl Bolander & Sons Co. and Atlas Foundation for foundation work and drilled piers, and Amerect for structural steel. Aggregate Industries supplied the concrete. Countless firms and professionals have been involved on this project; during its peak, more than 500 workers could be found on site each day.
At the moment, the Radisson Red hotel is under construction and the city park is being graded. Interior work is taking place in the Wells Fargo towers and residential structures. Projections indicate that all of Downtown East will be complete by the end of the year, except for the new office building, which will open in mid-2017. The MSFA parking garage was opened to the public on Jan. 1.
We at AET have greatly enjoyed being a part of this high-profile project, and we look forward to seeing how Downtown East will energize the neighborhood and area businesses. (We hope it will energize the football team too.)
Tom Venema, PE, LEED AP, is a principal engineer and vice president in AET's Construction Services Group. He can be reached at tvenema@amengtest.com.