Whether you are measuring the compressive strength of a concrete cylinder or conducting long-term creep and shrinkage tests, we can evaluate and pre-qualify construction materials via our impressive range of laboratory testing and analysis services. 
Test schedules are developed to meet your needs including rush services to minimize or eliminate your project downtime. Test results are reported promptly. For long-term tests such as creep and shrinkage, alkali-silica reactivity, and admixture evaluations, interim results are provided.
AET offers over 300 standards-based concrete and cementitious product tests — one of the largest lists of services in the industry.
Our extensive list of tests include but aren't limited to:
ASTM C666 Resistance of Concrete to Rapid Freezing and Thawing
ASTM C1260 Potential Alkali Reactivity of Aggregates
NT Build 492 Chloride Migration Coefficient
AASHTO T336 Coefficient of Thermal Expansion of Concrete
ASTM C465 Processing Additions for use in Cement
ASTM C1293 Length Change of Concrete Due to Alkalai-Silica Reaction
ASTM C512 Creep of Concrete in Compression 
We have 10,000 square feet of laboratory space in our St Paul Headquarters
Compression testing machines with capacities from several pounds to 650,000 pounds
Specialized facilities for mix design verification, casting, and curing of test specimens
A full service cement/mortar laboratory
Numerous controlled environmental rooms (-10°F to 130°F, some with controlled humidity)
0 degrees F walk-in-freezer and nine freeze-thaw chambers (one of our nine freeze thaw chambers pictured below)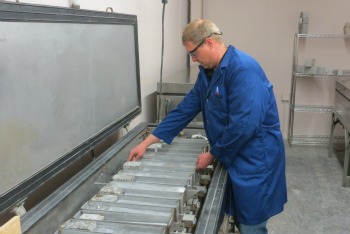 AET brings unparalleled experience to standard and specialized testing of cements, aggregates, mineral admixtures, chemical admixtures, concrete, stone, and concrete products.
AET participates in the Concrete and Cement Reference Laboratory (CCRL) program.
As part of the CCRL program, a comprehensive examination of our laboratory procedures and equipment is conducted biannually. Also, we are recognized and certified by AASHTO and validated by the Corps of Engineers. Our team is active in technical organizations such as ASTM, ACI, and PCI, and participates in the development, adaptation and implementation of many test standards.
For more information on our Cement and Concrete Lab and Services please visit our service page.