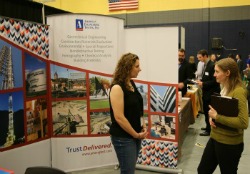 Whether you're looking for an internship or full time engineer/scientist position, college career fairs are a great place to meet potential employers and research career opportunities. Here are seven top ideas that impress when you attend:
1. Review the list of participating employers– It's best to have a game plan and prioritize your list of companies
2. Research – Students stand out when they know a little bit about the company and how they think they will fit in.
Example: In your discussions talk about what service line(s) you are most interested in and how your degree fits and/or discuss an article that caught your eye on the website. You can go an extra mile and be familiar with our office locations.
3. Elevator Speech – Prepare a quick 1 minute introduction and practice it, you don't want to sound rehearsed but you also don't want to be caught off guard. Tell them who you are and what you are interested in. Rise to the top of the class with an intelligent question for recruiters.
4. Dress professionally – You only have one chance to make a great first impression. You may not have to dress up every day at work, but professional attire at the career fair and at your interview show you're serious and capable of looking the part when required.
5. Personality – Show personality and make conversation. Companies are looking for team players that demonstrate strong communication skills.
6. Apply – Follow the company's instructions and submit a formal employment application for the internships/jobs you are interested in.
AET's career openings are easy to find at www.amengtest.com/careers. Apply now!
7. Follow-up – Write down the name(s)/collect the business cards of the people you talked with at the career fair. A personal note thanking them for their time and about the specific opportunities you're interested in shows commitment and interest.
We look forward to seeing you at an upcoming career fair!
Good Luck!!