What do soil borings, geotechnical engineering, pile driving observation, reinforcing steel observations, concrete testing, observations of welded and bolted connections, and site grading all have in common? In the winter of 2013/2014, our Construction Services team performed all of these and more on the now complete and opened Surly Destination Brewery in Minneapolis, MN.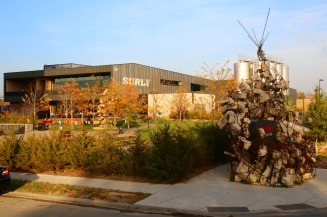 In October 2013, Surly Brewing broke ground on what would become the state's first Destination Brewery site in Prospect Park neighborhood of Minneapolis. The site, that spanned Minneapolis and Saint Paul city lines and Hennepin and Ramsey county lines, was a former industrial location. The brewery was envisioned to be not just a brewery but would house its own restaurant, meeting site/large event center, and outdoor space for activities, this meant a lot of work had to be completed on the site. Led by Rob Flickinger, AET's project manager, the team started on the project by observing the pile driving for the new brewery. These observations were key because of the site soil conditions, it was important to make sure the piles could support the Surly Brewing design team's vision for their brewery.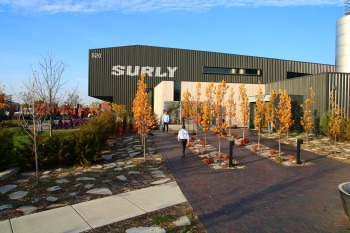 Throughout the record cold winter, AET's Construction Services team used their skills and experience to cope with the effect cold weather has on welding and driving of the piles. The spring weather offered its own bite, bringing record rain, but construction and environmental cleanup work continued. The Construction Services team helped the contractor keep going throughout the cold winter and rainy spring weather, providing recommendations and guidance to help maintain the project construction schedule.
The brewery, which opened in December of 2014, has been a huge success. Surly Brewery is now an entertainment complex and the currently the only destination brewery in the state of Minnesota.
For more information about the services our Construction Services team offers please visit their page.