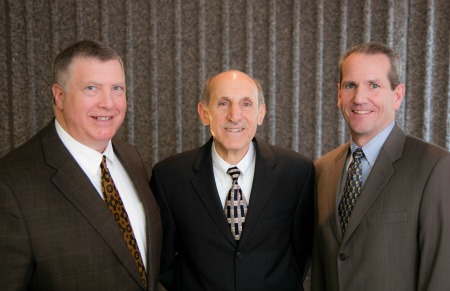 This morning, to a meeting of its employee owners, Founder Terry Swor announced changes in the leadership of American Engineering Testing, Inc. (AET). Swor detailed that after thirty years, he would be stepping down as CEO and current President Daniel Larson, PE, would be taking his place effective February 1, 2016. Swor also announced David Rettner, PE, will be the company's new president. Swor will remain as chairman of the board and will, starting March 1st, assume a reduced workweek. Bob Krogsgaard will remain the company's CFO. Looking to the next step for AET, Swor is confident, "Daniel's operational and technical skill set in conjunction with David's industry presence and expertise, puts AET on a continued track of growth, geographic expansion and organizational success."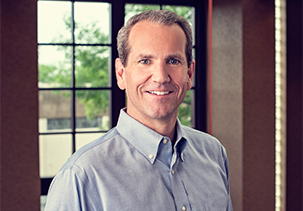 Daniel Larson, PE, has spent the last 26 years at American Engineering Testing (AET), serving first as a leader of the Materials Division and most recently as company president. He is American Engineering Testing's 3rd executive leader in the company's 45 year history. During his tenure, Larson has been instrumental in the company's growth, orchestrating the expansion of its construction materials, forensic engineering and nondestructive testing service lines as well as its geographic reach to over 18 offices throughout the Midwest. Coupled with the geographic growth, Larson has been a key factor in employee recruitment and development at AET, making key hires and being part of the leadership team that helped it grow from a closely-held firm with 17 employees to a 100% employee-owned firm with over 400 employees. "I was recruited by the three founders of the firm in late 1989 and was instantly struck by the clarity of their vision – they wanted to be the best, not the biggest. That resonated with me back then and still does to this day," says Larson of his beginnings with AET.
A graduate of the University of Minnesota with a Bachelor of Science degree in Civil Engineering, Larson has spent most of his career with AET. In early 1990 he served as principal engineer and manager of the Materials Division. At the time of his hire, AET was principally a geotechnical engineering firm with limited construction materials testing capabilities. Larson quickly built the Materials Division with the help of existing staff and key new hires and added additional service lines over the next several years. He was promoted to vice president in 1994, a position he held for over 15 years. In 2000, Larson was elected to the board of directors and became president in 2011. He continued to focus on the growth of his division during this time but also worked closely with other division managers and the executive team to chart the strategic direction of the firm.
For Larson, the original vision of the founders Terry Swor, Dick Stehly and Don Stormoe, endures to this day: be the best, not the biggest, by creating a company dedicated to outstanding client service and technical excellence. "The history of being one of the first in our industry in the region to be 100% employee owned is a point of pride and vital to the future success of our people and our company," says Larson. While acknowledging the past, Larson is looking to the future and is excited about what is on the horizon. With the advancement of technology and the further expansion into new markets, the future for AET is bright. "We are a company that has a diverse service offering and an extraordinary depth of talent," Larson says, "AET continues to strive to be a one stop shop for our clients, with the diversity of knowledge and extensive laboratory services to best serve our clients. With advancements in technology, the future is exciting for AET."
A leader in the local community, Larson has served, and continues to serve, on the board for the American Council of Engineering Companies Minnesota, where he is a key member of both the Legislative Committee and the Workforce Development Committee. He is also an active member of the Minnesota Chamber of Commerce, where he continues to serve on the Transportation Policy Committee.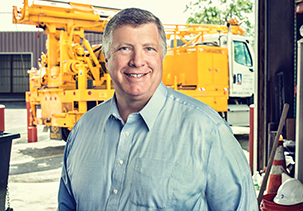 David Rettner, PE, has been key to AET's growth and contributed to several major developments at AET during his tenure. Joining AET in 2004 as a Principal Engineer, Rettner focused on growing AET's transportation services. Success came shortly after he joined AET as Rettner took on one of his largest projects to date, the second largest highway design build project in the state of Minnesota, where he lead the quality assurance, control, and inspection on the project over three years.
In addition to his contributions on large transportation projects and expanding the name recognition of the company, Rettner started a Pavements Group at AET that has developed into a leading provider of pavement evaluation, design, rehabilitation, and materials testing services. With state of the art bituminous, concrete, petrographic, and chemistry laboratories, AET has greatly expanded its service line to better serve clients comprehensively throughout the country.
Rettner was named Vice President in 2009 where he helped move the company through the recession, expanding the company geographically. Not long after in 2011, Rettner was named senior vice president due to his dedication to his work and the success of AET. He was also elected to the board of directors in 2011 and named division manager for AET's Geotechnical and Construction Materials (GCM) Division which comprises nearly two thirds of the company and most of the regional offices. Under his tenure, the GCM Division has enjoyed significant growth and strong profitability.
In speaking about his time at AET, Rettner focuses on the strengths he has seen developed over the years, "What I love about working at AET is that we have an entrepreneurial approach to business. As a company we are receptive to adding and expanding our technological capabilities and our geographical footprint," Rettner says. "We strive to be the best at what we do in any location where we provide services."
Looking to the future, Rettner will be working closely with newly elected CEO Daniel Larson, and AET's leadership team in overseeing day-to-day operations as well as implementing AET's new 5-year strategic plan. With an eye on the future, Rettner is mindful of new technological developments that are improving the field and bringing improved solutions to clients.
Today, due to his extensive project experience and knowledge, Rettner is considered the authority in the region on cement stabilization for heavily loaded low volume roads, bituminous stabilized full depth reclamation and cold in-place recycling. Often sought after as a speaker, he has presented on these topics and more at area and national conferences and training programs, imparting his knowledge and experience to his fellow engineers. He is also a longstanding member of industry organizations such as the Transportation Research Board, American Concrete Institute, and the American Council of Engineering Companies Minnesota.
More information on CEO Daniel Larson, PE can be found here.
More information on President David Rettner, PE can be found here.