AET was honored by the Midway Chamber of Commerce Community as top among three firms at an award gala March 1.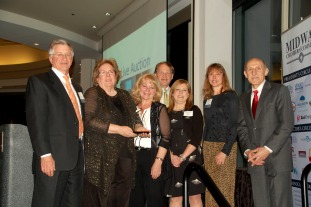 AET was among the honorees at the Midway Chamber of Commerce's annual gala event held March 1. AET received the award, Sponsored by the Midway Lions Club, as voted on by members of the Midway (St. Paul) community which includes 320 businesses and organizations.
14 year members of the Midway Chamber of Commerce, AET actively participates in Chamber and community events. Gail Cederberg, Ph.D., AET's environmental compliance manager sits as Economic Development Committee Co-Chair and was instrumental in taking the lead on implementing the now annual Economic Development Summit that will take place again this spring. AET also shows their continued support through sponsorship and volunteering at programming and events and are members of the Sponsorship Circle at the Director's level.
"The foundation of any chamber of commerce is its members and the commitment, dedication and leadership they demonstrate to support the Chamber and our community," said Kari Canfield, President of the Midway Chamber. "The winners of the leadership award this year show the strength of the Midway Chamber. They also prove the importance of being involved and the impact that involvement can have. Congratulations to all of the winners and the finalists."
AET recognizes the valuable service of the other Large Business Award finalists and the role of the Chamber in keeping the Midway corridor vibrant. Other honorees at the event include Small Business of the Year, Fenske Law Office; Organization/Non-profit of the Year, Episcopal Homes; Rookie of the Year, Turf Club; and Volunteer of the Year, Jamison Randall of Latuff Brothers Auto Body. All honorees have done a great job representing St. Paul's business community.