This award honors firms responsible for concrete overlay projects that meet stringent criteria for exceptional concrete quality, project complexity, maintenance of traffic, and quality of finished product.
Two AET team members attending the Concrete Pavement Association of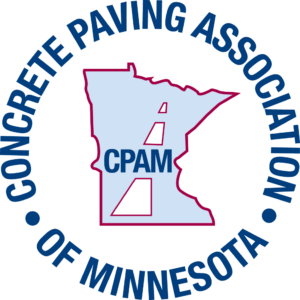 Minnesota (CPAM) 2022 conference were presented with awards, along with representatives from PCi Roads (see photo above). Jacob Michalowski served as the project Construction Quality Manager and Pavement Design Engineer, and Bob Anderson served as the Concrete Pavement Quality Manager,
American Engineering Testing (AET) partnered with Ames Construction, the design-build general contractor, on the pursuit, design, and construction phases of the I-35W North MnPass Design-Build Project, working alongside Alliant Engineering and PCi Roads.
AET played a large role in the design and construction of the high-quality concrete pavements used on the project and ensuring the work met contract requirements.
AET Brought Innovation in Concrete Strength Monitoring to the Project
One of AET's contributions to this project was the use of wireless temperature sensors, embedded within the newly poured concrete, to monitor temperature and determine strength development of the concrete pavement, in real time.
This innovation in quality control (QC) allowed the team to identify more quickly — and with greater accuracy — when the concrete had reached maturity. This helped speed up schedules for subsequent pours and open new pavement to traffic without risk of damage from early age traffic loading.
The ability to accurately monitor concrete strength, paired with the use of quality concrete mix designs and effective QC inspection, helped the project team optimize schedules and improve the overall quality of the project. The use of these maturity sensors to track and confirm cure times also reduced the number of concrete beams/cylinders required for validation testing.
Overall, the quality management system and performance-engineered concrete pavement mix design result in increased durability, pavement life, and long-term performance. AET looks forward to bringing this technology to future construction projects.
We are proud to have worked with this exceptional team on this important project.
Congratulations to all involved!
I-35W North MnPass D-B Project Details
This 3-year reconstruction of 12.5 miles of interstate highway from Roseville to Lino Lakes has won several honors, including an ACEC/MN Honor Award for Engineering Excellence 2022, it was a winner of the ENR 2022 Midwest Best Projects award, and won a DBIA-UMR 2022 Design-Build Excellence Award, as well as the MnDOT/CPAM award mentioned above.
Completed in 2021, this was a $208 million reconstruction and overlay project that addressed aging infrastructure, while improving the commuting experience along 12 miles of I-35W between Roseville and Lino Lakes Minnesota. The scope included repaving the existing roadway, widening to include Express Lanes in both directions, re-working of 13 interchanges, plus replacement of five bridges and repair of a sixth bridge. In only 270 days, over 226,000 cubic yards of concrete was placed and cured for the new pavement – the equivalent of 135 lane-miles.