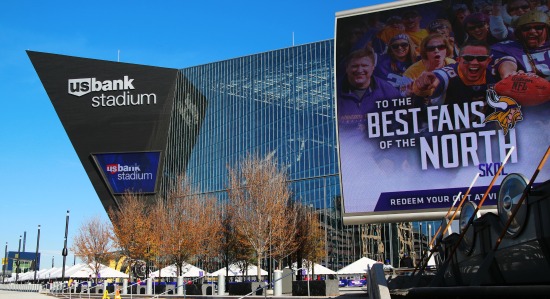 On January 27, 2017, the American Council of Engineering Companies of Minnesota (ACEC/MN) awarded American Engineering Testing, Inc. (AET) and the Minnesota Sports Facilities Authority (MSFA), a Grand Award for Engineering Excellence for the Geotechnical and Environmental Engineering of U.S. Bank Stadium in Minneapolis, MN which opened in late July 2016.
AET's geotechnical engineers provided unique and cost effective approaches to solving two significant and challenging aspects of the project: 1) the axial (up and down) and lateral thrust loads from the unique single roof truss system and 2) the potential high retaining wall loads due the event level being located 35 to 50 feet below street level. Innovative buttress foundation recommendations to support the high roof truss thrust loads were developed using sophisticated FLAC® modeling software. Self-retained backfill systems of geotextile wrapped sand layers reduced the costs associated with deep retaining walls.
AET's environmental team also contributed to the project's success, striving to maximize beneficial reuse of minimally impacted soils, reduce landfill disposal and keep the earthwork schedule on track; all while encountering significant challenges presented by petroleum-impacted soils, the 24/6 excavation schedule, and the record breaking cold weather of January 2014.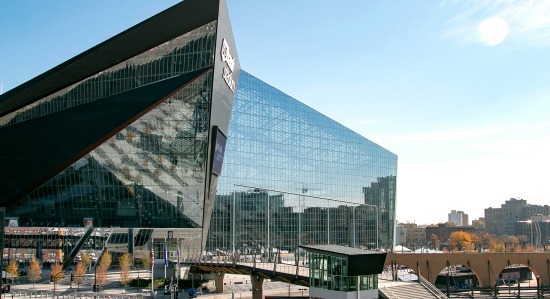 U.S. Bank Stadium exemplifies a collaborative effort from a strong, experienced technical team of architects, engineers, and contractors in conjunction with community involvement to come to a shared vision. The lead architect, HKS, general contractor, Mortenson Construction, and the MSFA worked with their project partners, including AET, to craft a stadium that was not only environmentally friendly, but is "authentically sustainable". The result was a project that was completed ahead of schedule and built for sustainability, and one which will have lasting benefits for the stakeholders, the engineering profession, and community as a whole.
Read More about the geotechnical support AET provided here.
Update: The National ACEC organization additionally awarded MSFA and AET a National Recognition Award for this project at their awards ceremony in April 2017.