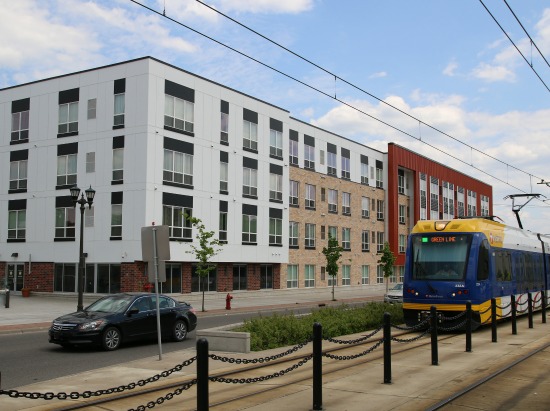 On January 27, 2017, the American Council of Engineering Companies of Minnesota (ACEC/MN) awarded American Engineering Testing, Inc. (AET) and their project partners Anderson Companies and Project for Pride in Living (PPL), an Honor Award for Engineering Excellence for Hamline Station Apartments located on University Avenue in St. Paul, Minnesota which was completed in December 2015.
Every now and then a project comes along that stands apart from the rest, whether it's the unique and innovative approach you take to the project or the dramatic community impact, those projects stay with you. Hamline Station is one of those projects. With two new buildings providing 108 affordable housing units, 14,000 square feet of retail space, a playground, and an open public plaza, Hamline Station is the largest new development from PPL.
PPL identified the former Midway Chevrolet dealership (abandoned since 1999) as an ideal location for affordable housing. The economic support of the City of St. Paul and Metropolitan Council to redevelop the area sparked the momentum to begin working closely with the property owner, Krebsbach Properties, US Bank, the Minnesota Housing Finance Agency, the Family Housing Fund, and LISC in conjunction with ESG Architects, AET and Anderson Companies to develop a transformative project; bolstering PPL's mission to build the hope, assets, and self-reliance of individuals and families who have lower incomes by providing affordable housing and employment readiness services.
The Hamline Station Apartments were designed with future environmental impact and sustainability at the forefront of all activities of the project. Urban sites such as the former Midway Chevrolet site, historically can be redevelopment nightmares because of the need for remediation and regulatory complexity. AET worked closely with the MPCA and other regulatory agencies to create a Response Action Plan (RAP) for site remediation that not only benefited the site but the surrounding areas. Anderson Companies working with AET, were able to provide guidance from before the official groundbreaking to the final day of construction.
At its heart, the construction, financing, and philosophy behind Hamline Station is about people. PPL's mission is to build the hopes, assets, and self-reliance of individuals and families who have lower incomes by providing transformative affordable housing and employment services, and nowhere does this become more evident than here. Hamline Station Apartments exceeded its sustainability goals, reduced the environmental impact of the site, cleaned and repurposed an abandoned contaminated site, successfully collaborated with a multitude of project partners to guarantee project financing, and most importantly provided a place for people to come together as a community.
The team and project received a 2016 Excellence in Economic Development: Redevelopment Award from the Economic Development Association of Minnesota.
For more information about the environmental services provided for the project please visit here.