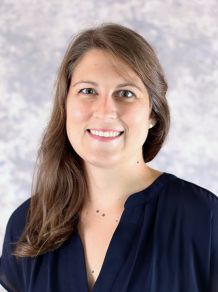 AET has welcomed Katie Zadrozny, PE to their Saint Paul office as a geotechnical engineer. Katie joins the team providing project management and engineering services to our growing geotechnical division. Principal Engineer and Geotechnical Division Manager, Greg Reuter, PE PG, D.GE adds "Katie, with her educational background and prior work experience, is a great addition to our geotechnical engineering department."
Katie joins AET after receiving her Bachelor's degree in Civil Engineering and Master's degree in Geotechnical Engineering from Virginia Tech and the University of Texas at Austin, respectively. She spent her time initially at engineering firms in California, Texas, and Minneapolis before making the move to join AET's headquarters in Saint Paul. Her time at these firms only further developed her geotechnical prowess, working on projects that make an impact. "I remember designing a retaining wall for a bike path and a foundation for a school," Katie recalls. "It's the projects that have the human impact, where you are helping your client make the world a little better for their clients and the public, those are the projects that I remember and love to be involved in."
Specializing in slope stability analyses, both shallow and deep foundation design, and infiltration testing, Katie uses her love of geology and ability to find creative sustainable solutions to impact her client's projects. "Geotechnical engineering allows [us] the chance to look at soils at a sometimes microscopic level and use that information to provide insights for design and construction in order to benefit the project and our clients," says Katie. Alongside public use projects, she has provided geotechnical services for commercial and residential developments, urban development, roadways and wastewater lines. Katie is also active in the American Society of Civil Engineers (ASCE), Urban Land Institute (ULI), Minnesota Commercial Real Estate Women (MNCREW) and the Minnesota Society of Professional Engineers (MnSPE).
Katie can be reached via email at kzadrozny@amengtest.com
Read articles from our geotechnical team here!
Learn about our Geotechnical Services.