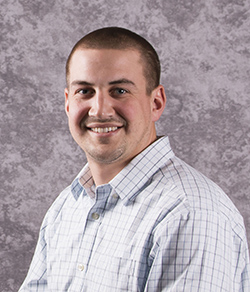 Jacob (Jake) Hovick, E.I.T., of American Engineering Testing, Inc. (AET) has been promoted to Construction Materials Project Manager of the company's Rapid City, SD office. In his new role, Hovick will be responsible for the coordination of the many construction materials projects occurring in the area, as well as consulting in the field and expanding AET's service offerings in the region. "Jake has grown in the past few years here at AET as a consistent leader," said Regional Manager Robert Temme, "he understands what needs to be done for our partners and continually performs. He will be a great asset in this role, using what he has learned over the years to further our service capabilities in the region."
As an undergraduate student in 2009, Hovick joined AET's Mankato office, working part time on construction materials and environmental projects while finishing his degree. In 2011, AET expanded by adding offices in Dickinson and Williston, North Dakota. Sensing the opportunity for growth and expanding his skills set, Hovick took on the opportunity, interning and working part time, providing materials and geotechnical testing. Hovick fully joined the Dickinson office in 2012 when he received his Bachelor's degree in Civil Engineering from Mankato State University. "My experience here (at AET), has really involved a little of everything. I have had the chance to learn, consult, and interact with true leaders in their fields within the company and been able to learn from them. It has been a steady progression of learning new skills and serving our partners" says Hovick of his time with the company.
Hovick's eagerness to gain knowledge and skills has made him sort of a jack of all trades in AET's Western Regional Offices. Hovick will coordinate with his experienced team to expand the construction materials testing services they provide in the Rapid City area, and he will be right alongside them as they do it. "Leadership and work ethic start at the top of an organization," comments Hovick, "if I am not willing to travel or work the long hours to make a project succeed, how can I expect my team to?" Along with working with his team, Hovick is adamant about sharing the knowledge he has gathered through the years, "Whenever possible I try to pass on my knowledge, I want to help others move forward in their careers and to expand their own skill sets to get them to where they want to be."
Hovick is a member of American Council of Engineering Companies (ACEC) North Dakota. He has also received multiple certifications including North Dakota Department of Transportation certification for Soils Field Tester, Aggregate Testing, Pavement Inspector, Asphalt Inspector; ACI Level I Certification; OSHA 40 Hour Hazwoper; e-RAILSAFE Certification; and Troxler Certification. Mr. Hovick is available for contact at jhovick@amengtest.com.